These photos make me think if flowers exploded in Wonderland…lover of all things Alice : ) …follow the rabbit <3
You were WARNED that this years HUGE Anniversary Sale would be like NO OTHER!!! Unlike ever before…you won't have to wait to buy the pieces from this shoot!!!! They are available NOW…so click on the links : )
Enjoy the enchantment…
BACKSTAGE at our Romantic Photoshoot <3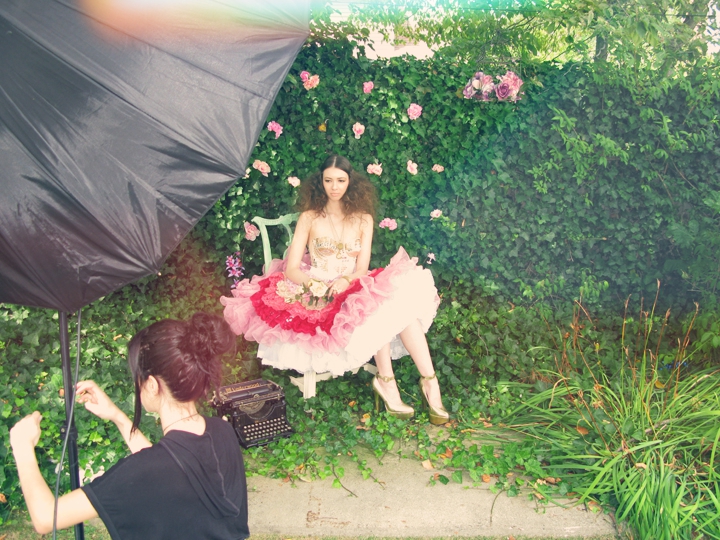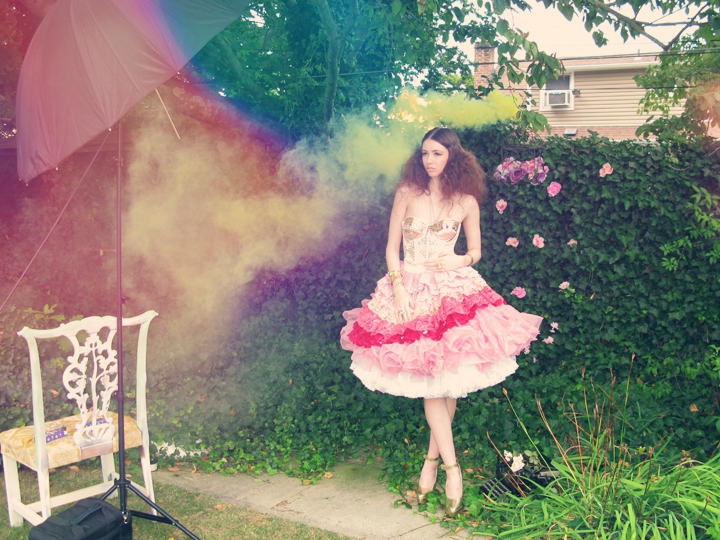 This could possibly be the scene when Alice meets the Caterpillar…
WHOOOO AREEEEE YOUUU!@@?
These ruffly SWEET Skirts are super dolly and chic! For a LIMITED TIME ONLY…part of the New York Couture HUGE Anniversary Sale…get yours before they SELL OUT!!! …HERE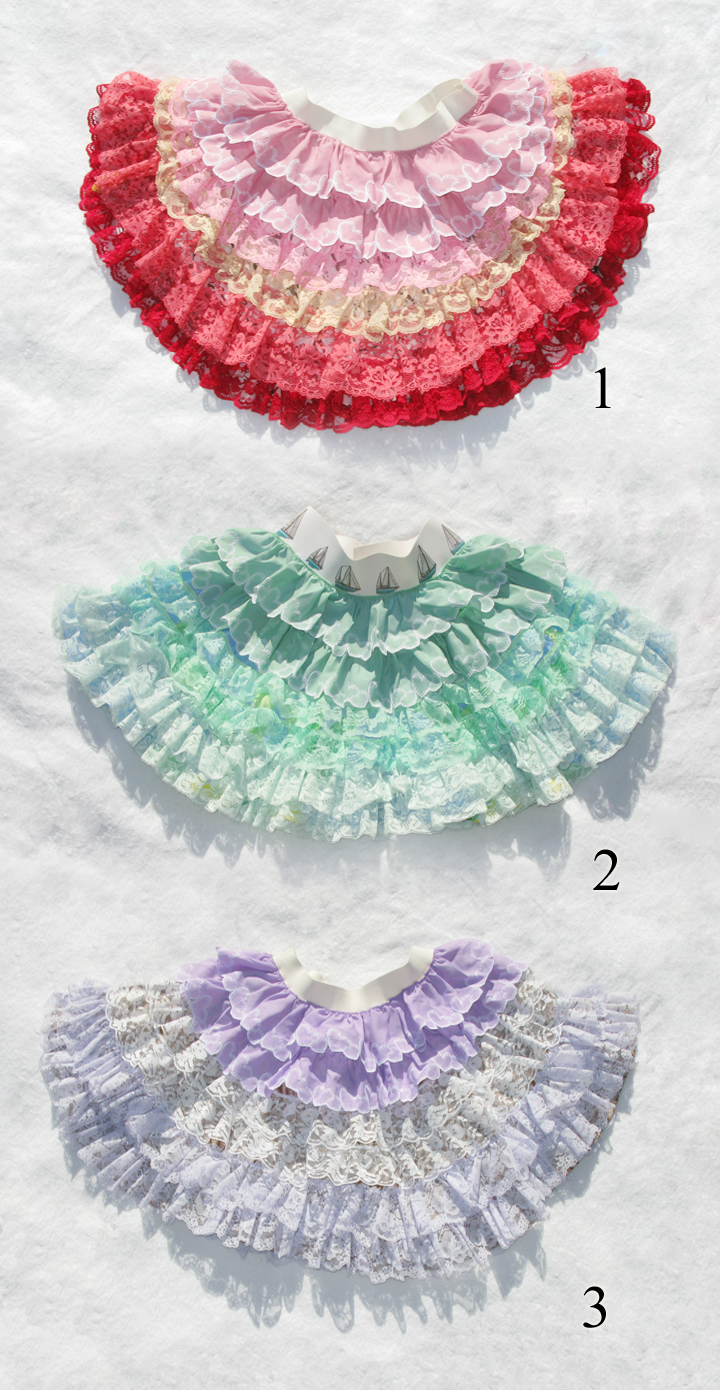 …very Great Gatsby!
VINTAGE Chic One of a Kind *Sample* High Waist Shorts with a STUDDED Bustier and FUN Vintage Necklaces! <3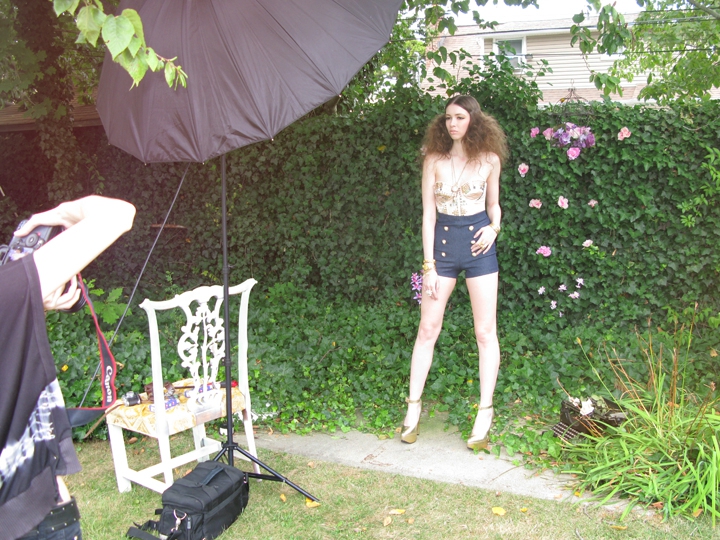 My very own Barbie Doll <3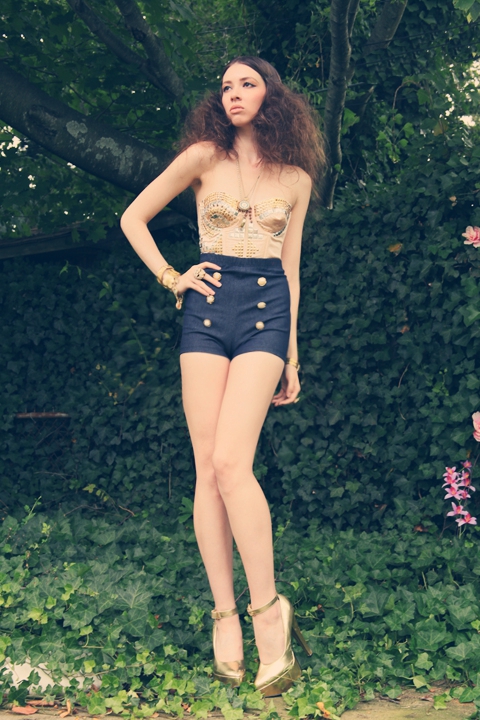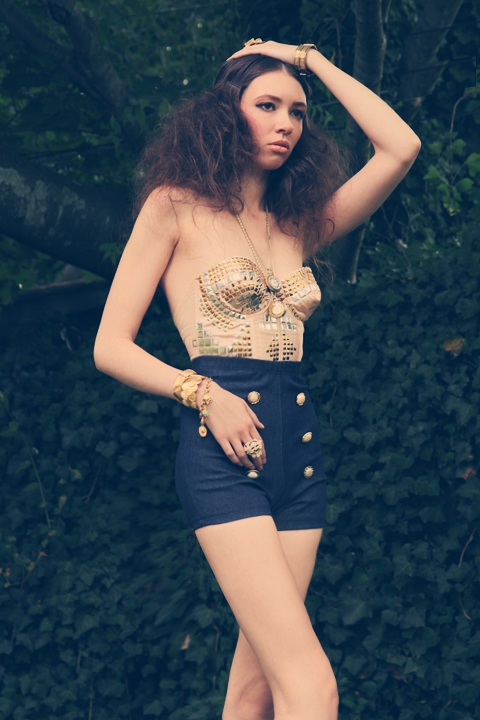 These shorts are TOOOOOO cute!!!
And NEVER before released online for sale…but starting NOW part of the HUGE Anniversary Sale!!
OHHH MAN…they're ALL One of a Kind…sooo hurry and get a pair!!
High Waist Denim Shorts HERE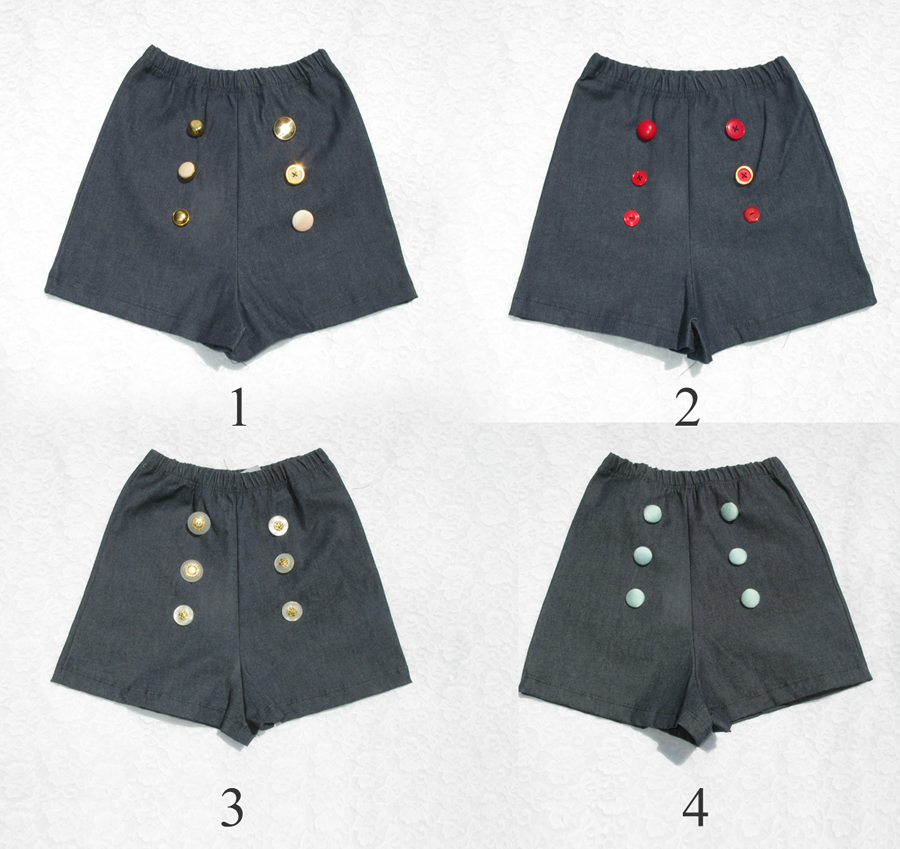 Isn't everyday a day filled with <3 Unicorn Dreams <3
The movie The Last Unicorn has always been one of my favorites!!! If you're a creative type I feel like you can relate…that there's just ONE like YOU : )
Not great if you're a lonely unicorn, but I think if you have originality then take your obscurity and enjoy that you're, like these clothes, *One of a Kind*!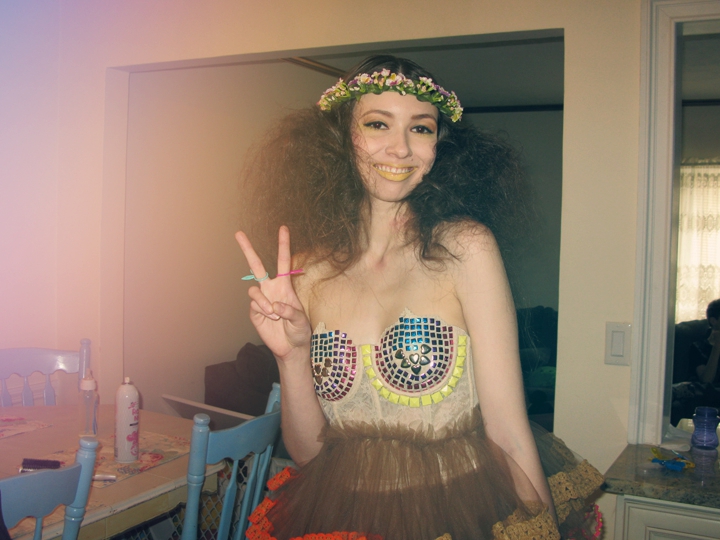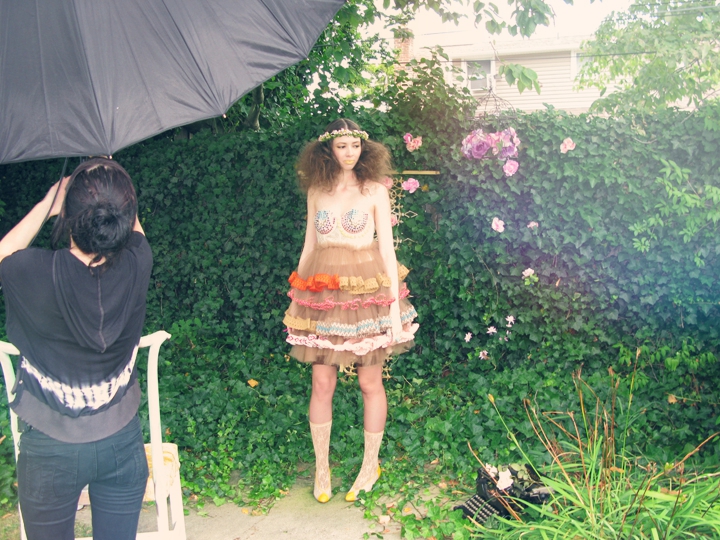 This was SUCH a FUN piece to make!!! ALL the trimming is vintage from the 50′s-70′s !
And then a modern touch with colorful studs <3
Sooo romantic <3 Sooo dreamy
…and it can be yours now : ) HERE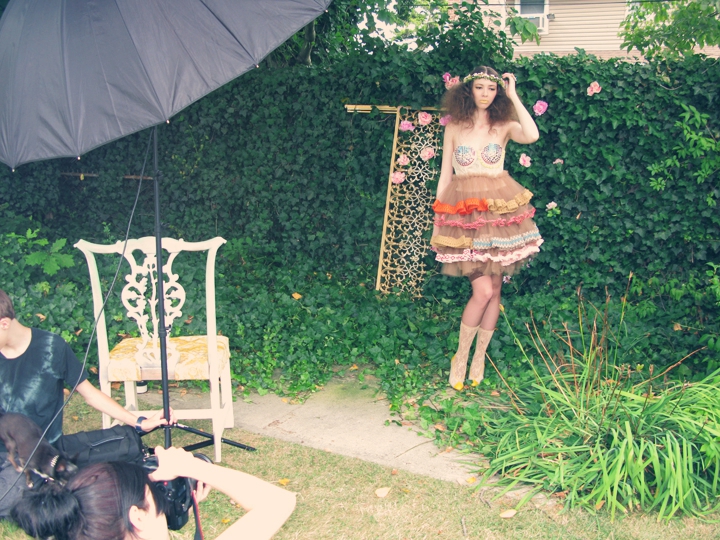 Come into my garden <3
We got a little bit of carried away-ness with the smoke bombs and ended up burning my headboard lol
It worked like a charm to hold the smoke bombs in place…just didn't take into consideration the fire/color aspect it would leave behind : )
…ohhh well…looks SOOO cool!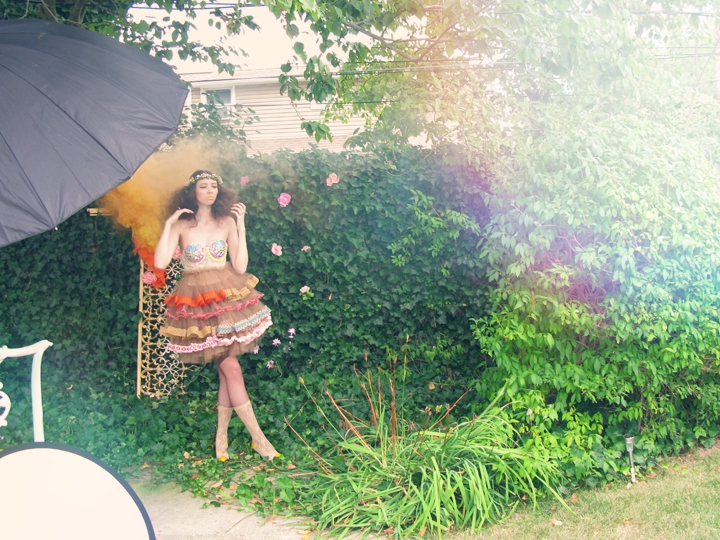 This dress is GOING TO SELL OUT!!!
One of a Kind garden glamour covered in ruffles…I ADORE this dress!!!
HUGE Sale…part of the Sale NOW!!! …get it before someone else does now HERE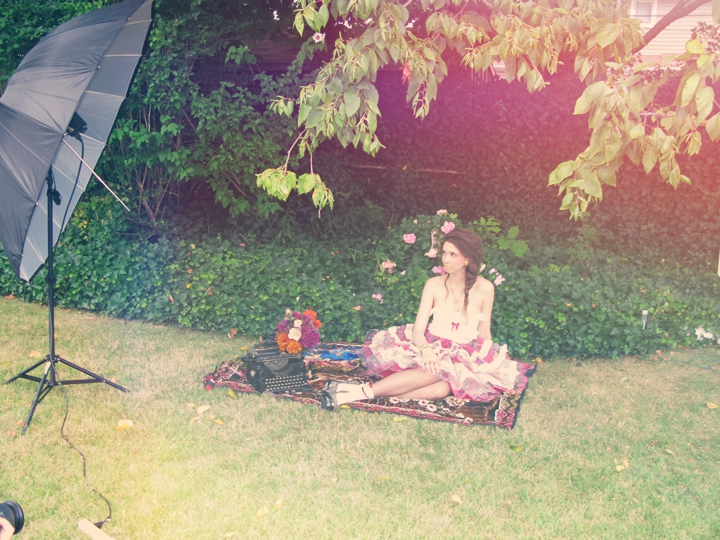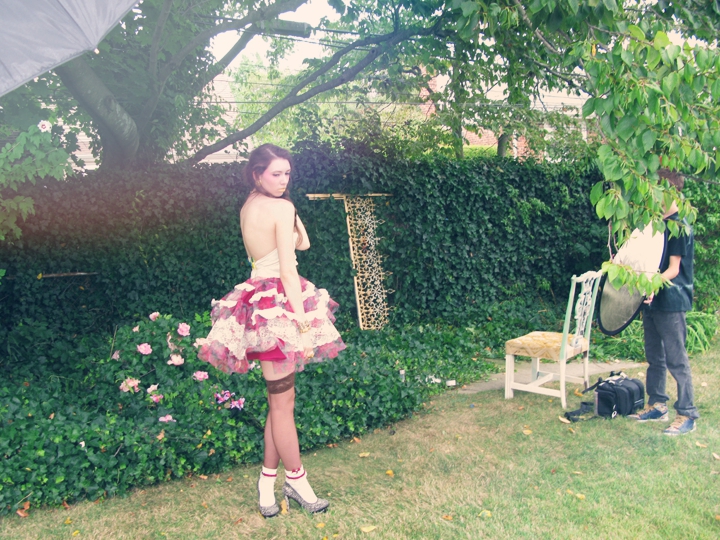 Look HOW cute it is!!!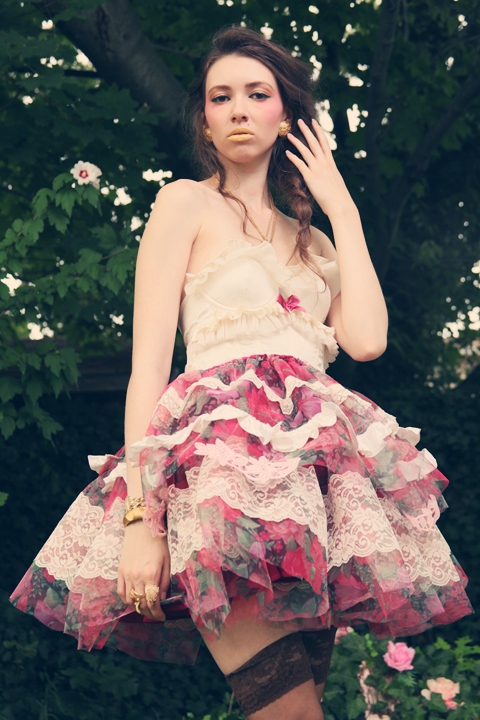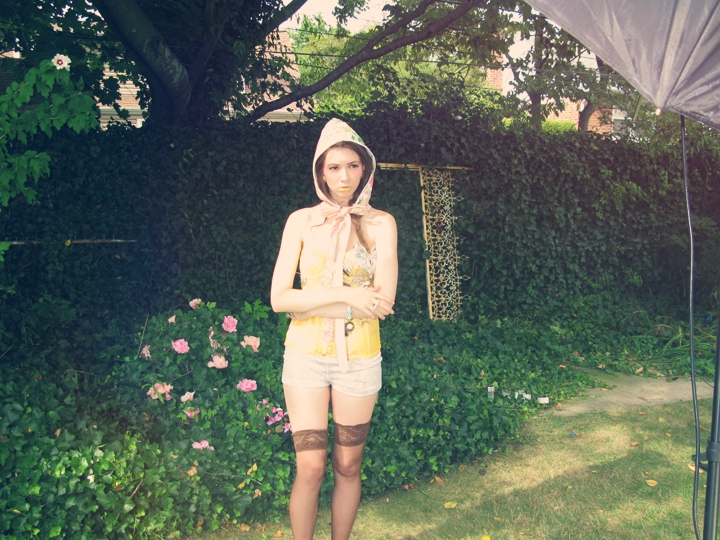 DreAmY Hoods!!!
This one has all pastel florals, is One of a Kind…and you're going to FLIP
…because it TOO is part of the HUGE Sale right NOW!
DON'T miss it!!!!! HERE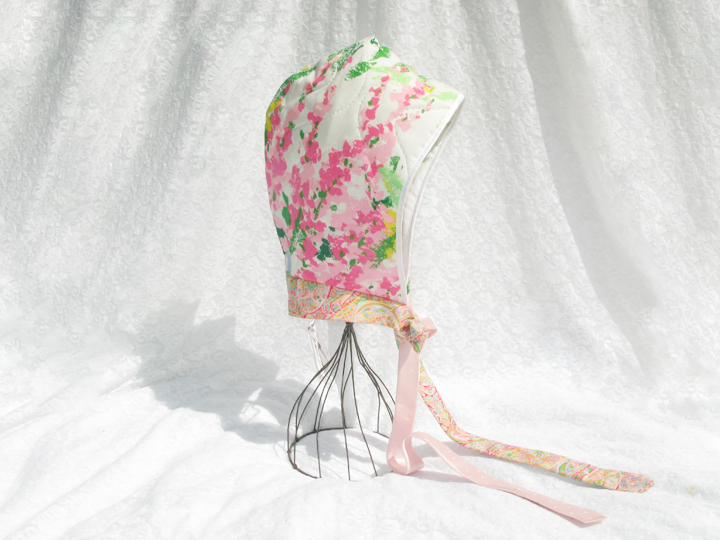 She is SOOO gorgeous!! I CANNOT wait to see how the real photos from this shoot came out!!!

Can you even IMAGINE since these are just the backstage ones! AMAZING!! <3 : )
Tuesday, September 10th, 2013
Did this SUPERRR fun shoot in Brooklyn!  Awesome Photographer Maddy Lucas came up with the ADORABLE-ness idea of having the polka dot backgrounds and I made all the dresses for this shoot custom : )  <3
Sooooo excited how they came out!!!!  For now you get to have fun seeing…
BACKSTAGE at the POLKA DOT Party Photoshoot  <3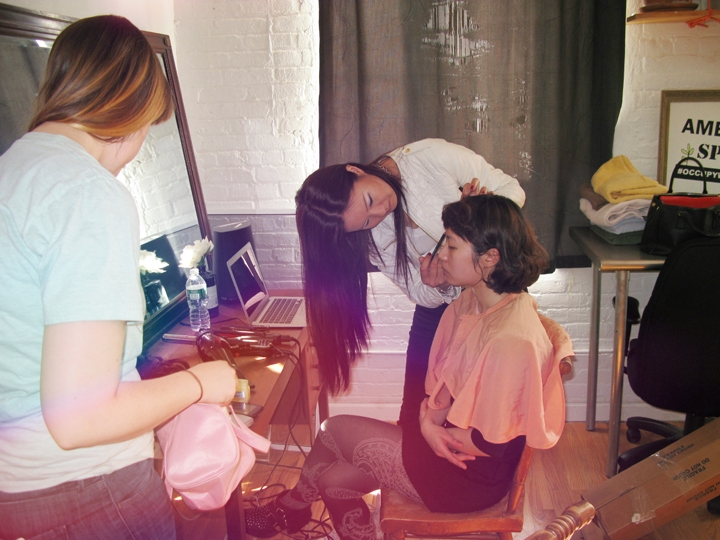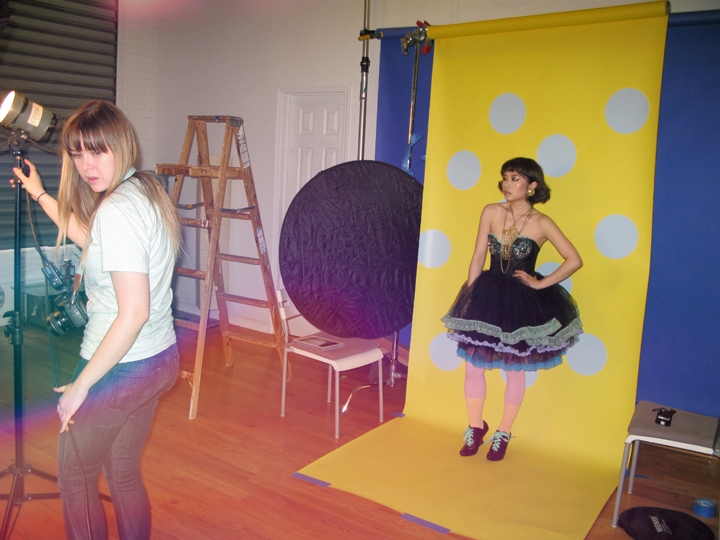 POP
dot
Polka Dots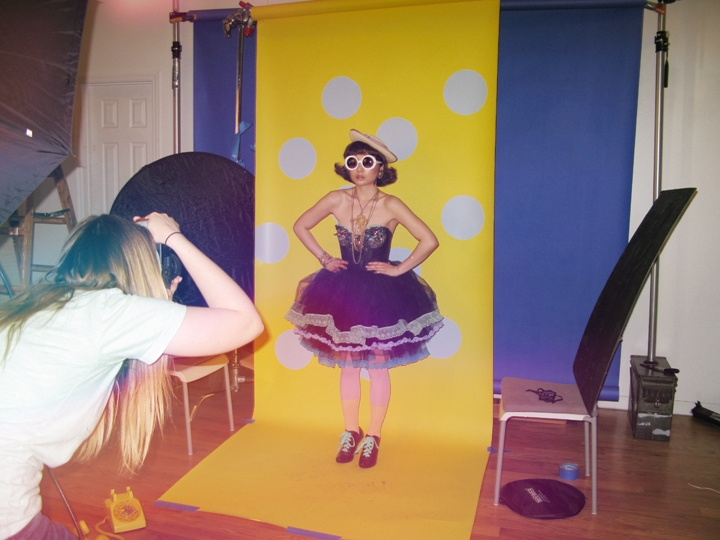 LOVEDDDD adding bits of FUN vintage to each outfit!!!  Like on the above look…this AMAZINGGGG  1960′S VINTAGE Layer Chain Necklace
…snag this RARE piece HERE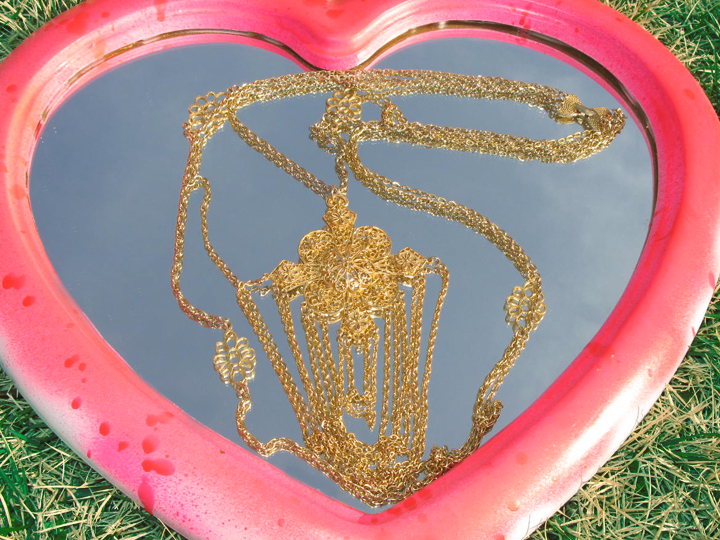 I keep getting emails and messages sayings everyone is Dyinggggg for NEW Party Dresses!!!! 
LOTSSSS of amazing *new* pieces coming…but I know most of you can't wait…so before the photos from this shoot even come out…we're releasing THIS Fabuloussss dress for sale!!!
…JUST added to the SHOP…get yours HERE QUICK!!!!  : )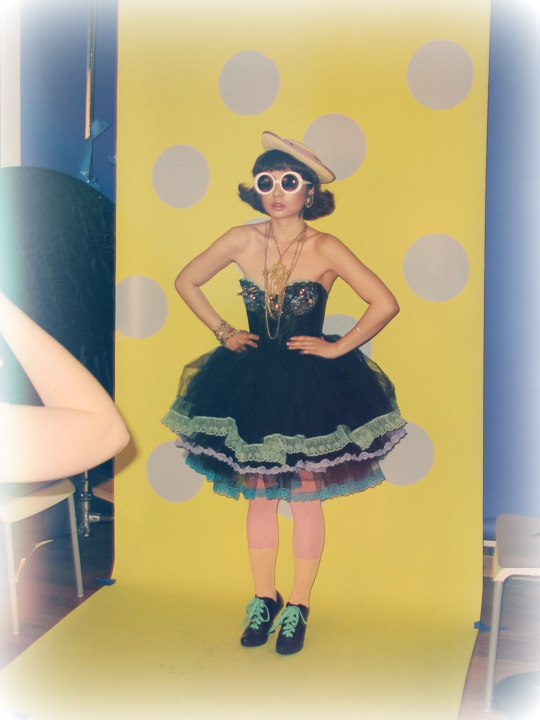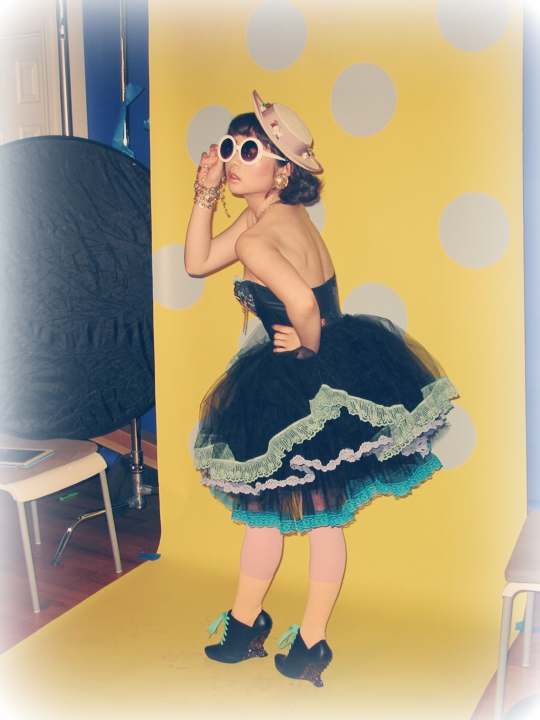 Superrr Kawaii
<3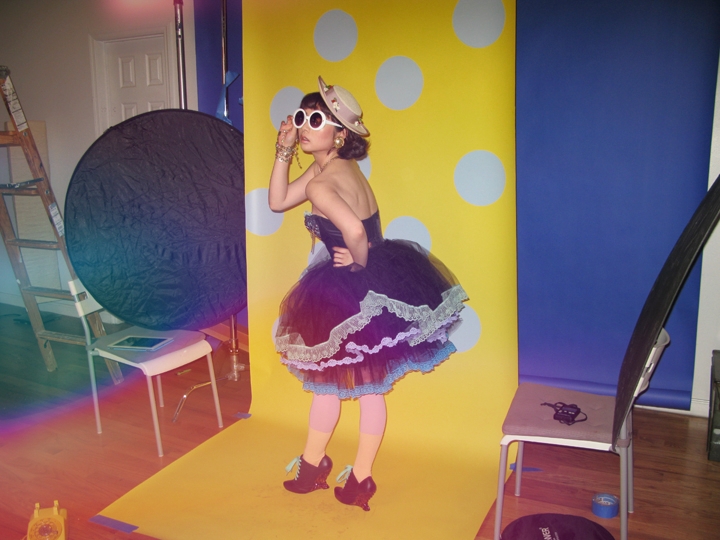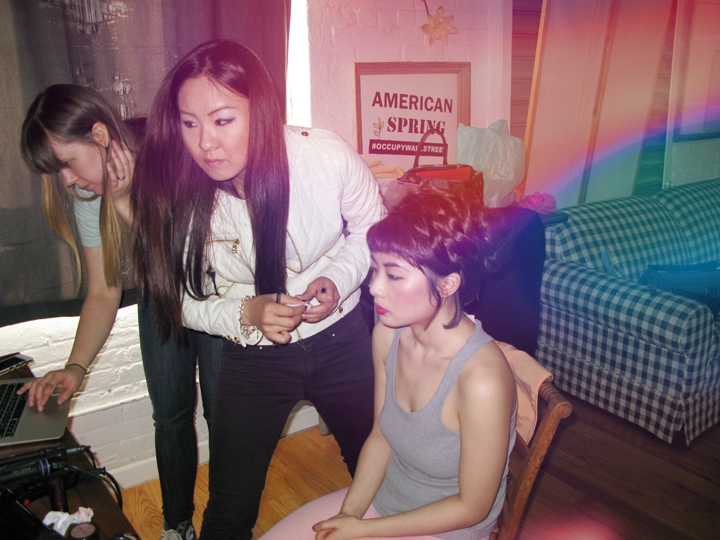 Next look was very glam mod bride!!!! 

Going to be coming out with a WHOLEEEE Wedding look section…CAN'T WAIT for this!!! 

I have alwayysss loveedddd weddings, the love, the tradition, and CANNOT wait to share in suchhhh a special day!!!  Custom and created pieces that are unique and ONE OF A KIND for the most fabulous brides!!!!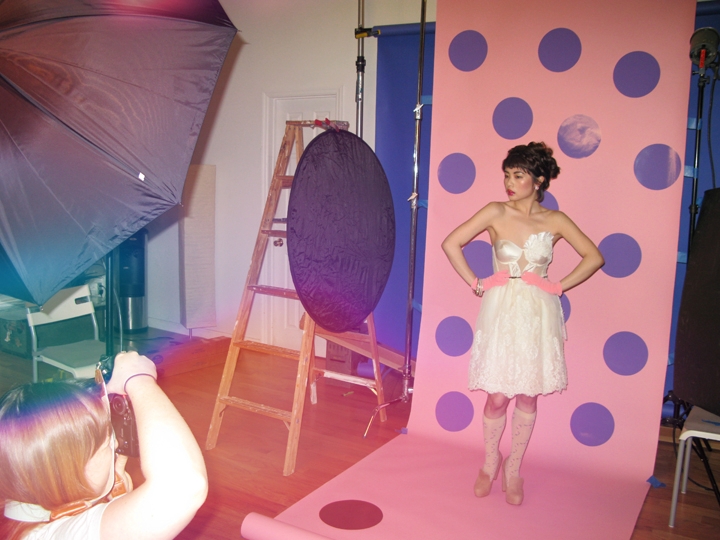 Bubble
gum
; )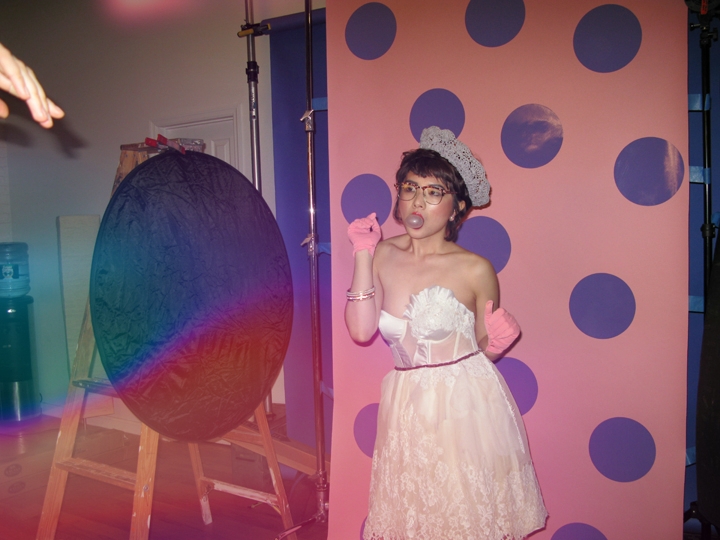 LOVEDDD this look with the 1930′s vintage hat and coral gloves!!!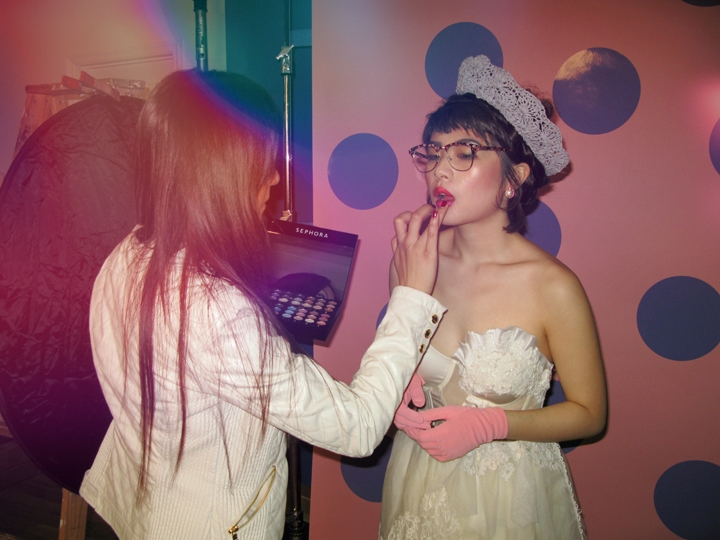 This look was very Lady Gaga -esque : )
Plush toy PARTYYY!!!!! Skirt
…I want candyyyyyyyyyyy
do do do do do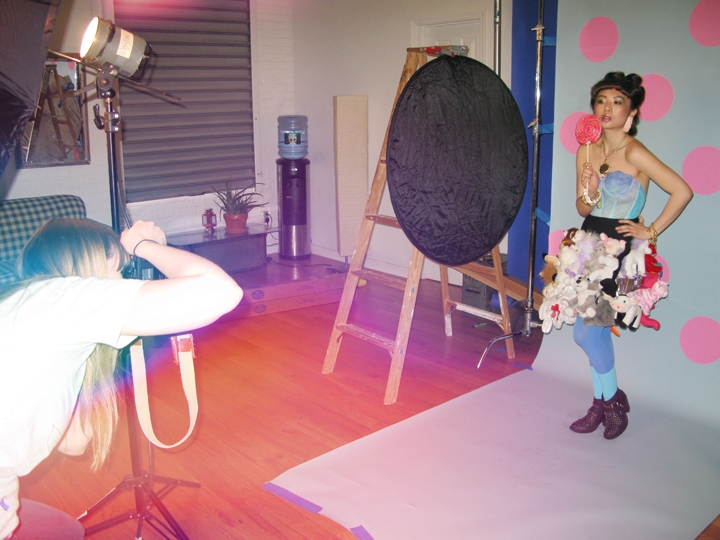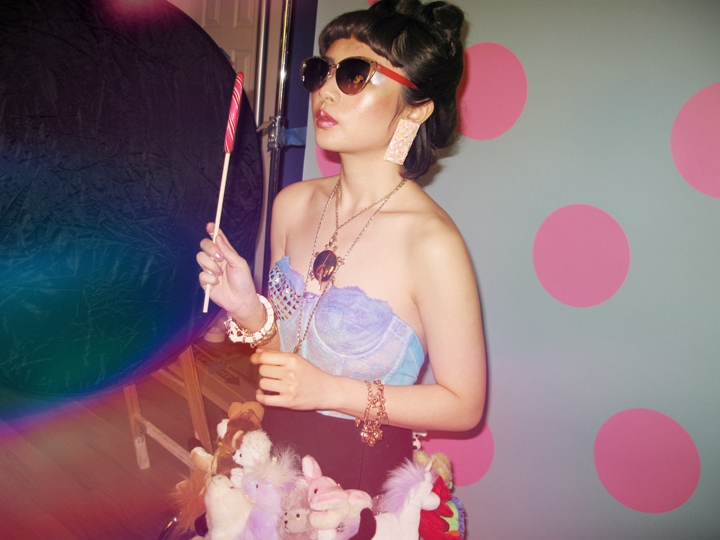 I can't with how cute these guys are!!!
<3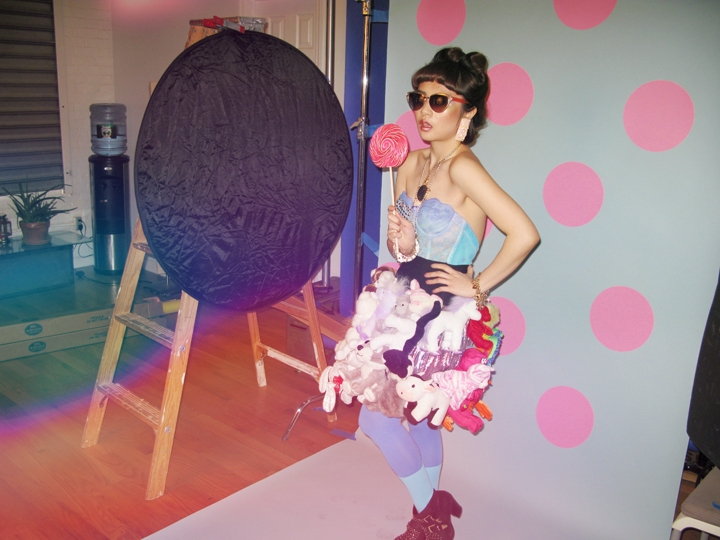 Barbie ATTITUDE!!!
lol
My FAVORITE dress from making everything for this shoot!!!
Kitty Cat MEOWWWW Party Bustier Dress
…made with ALL vintage trims!!!  Sooo chic!!!  Sooo fun!!!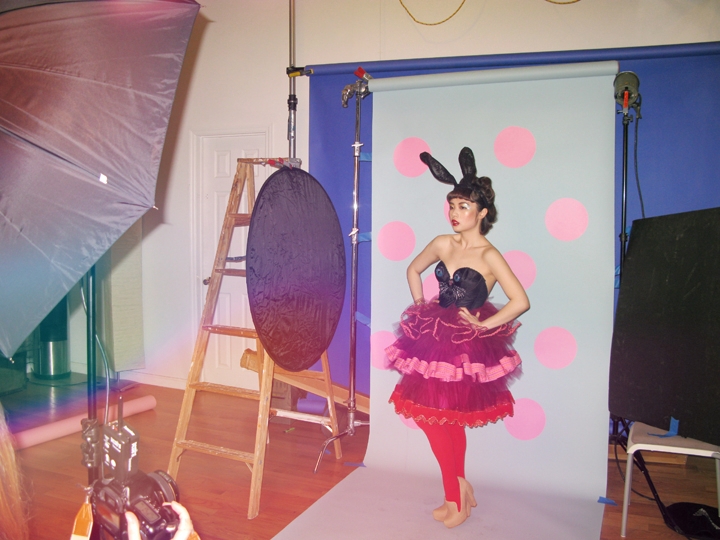 …told you AWESOME dresses are coming SOON for sale!!
: )
Expect LOTSSSS of FUN coming from New York Couture!!!!!  LOTSSSSS!!!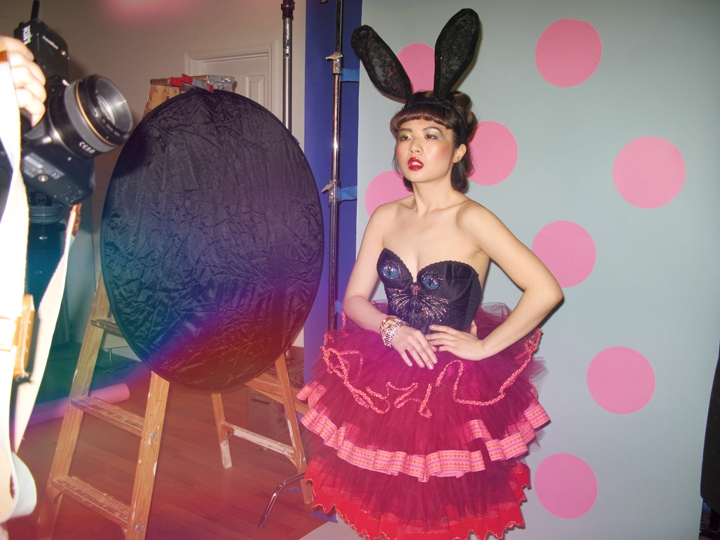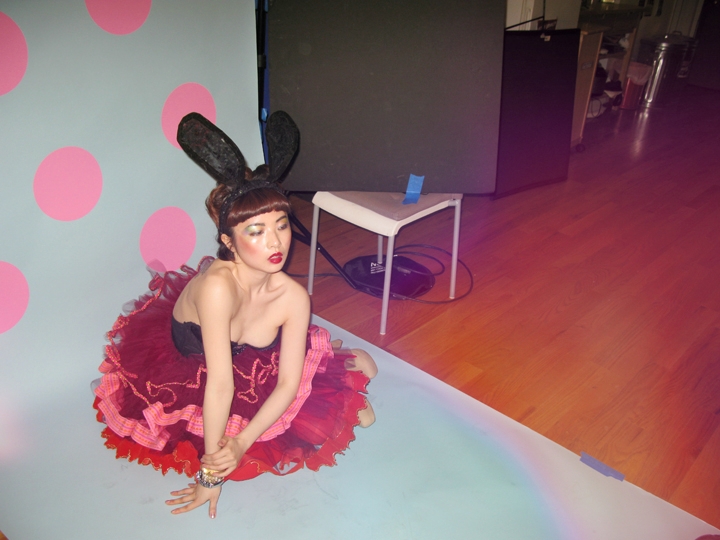 XOX
Thursday, June 27th, 2013
I adore everything VINTAGE!!  The older the better! There's something special about clothing, shoes, accessories, furniture that come from another time…has stories to tell… <3
Took Vintage Chic and had it collide into something BEAUTIFUL for this shoot!!  Check out all the BACKSTAGE pics for yourself : )
BACKSTAGE at the OLD HOLLYWOOD Glamour Style Photoshoot
…and coming ASAP…blog about what to expect from New York Couture at WARPED TOUR 2013!!!!  Sooooooooooooo exciting!!  …for now…when to find us!!! …we will be at the July 13th Warped Tour date in Uniondale, NY  <—CANNOT miss this!!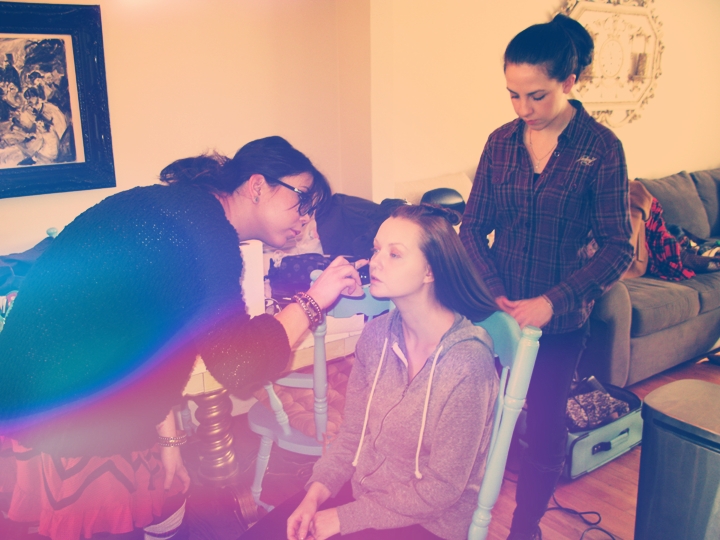 The FABULOUS and AMAZING Sinem & Toni doing their makeup/hair magic!!!
This model is STUNNING!!  LOVEEEEEDD her!!!!  Reminded me of a prettier and younger Stella McCartney!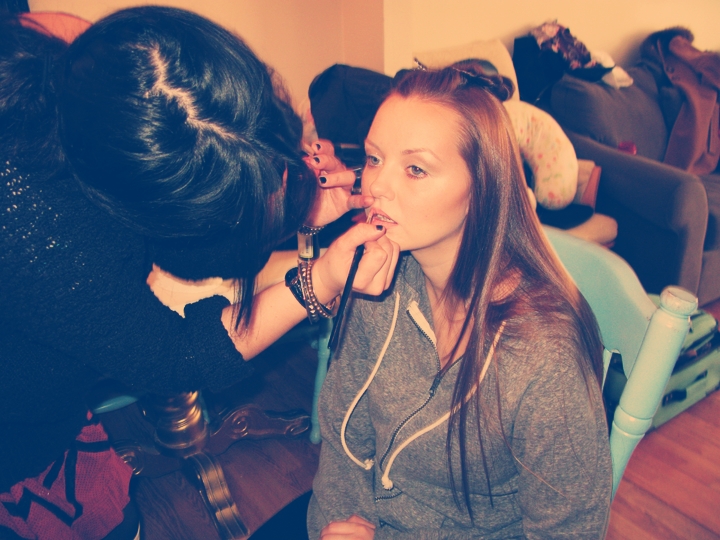 The clothes and backgrounds all had FLORAL LOVE themes <3
I think this dress is TO DIE FOR!!!!!  Will be available in the webstore soon : )
…you can snag the accessories now!!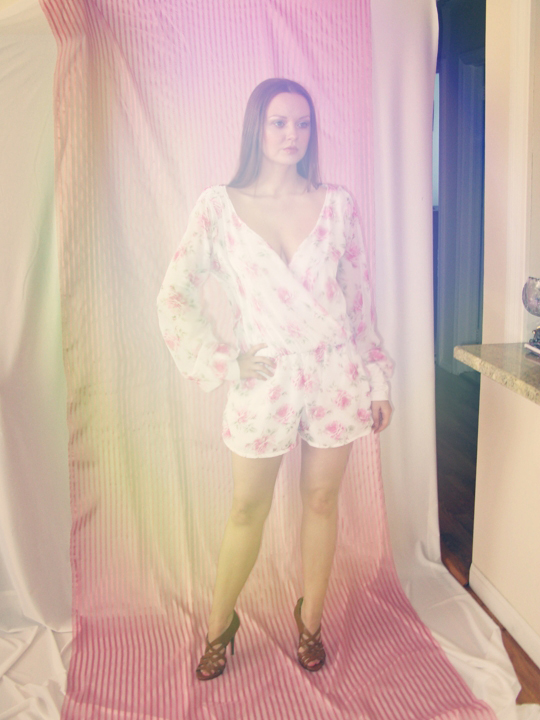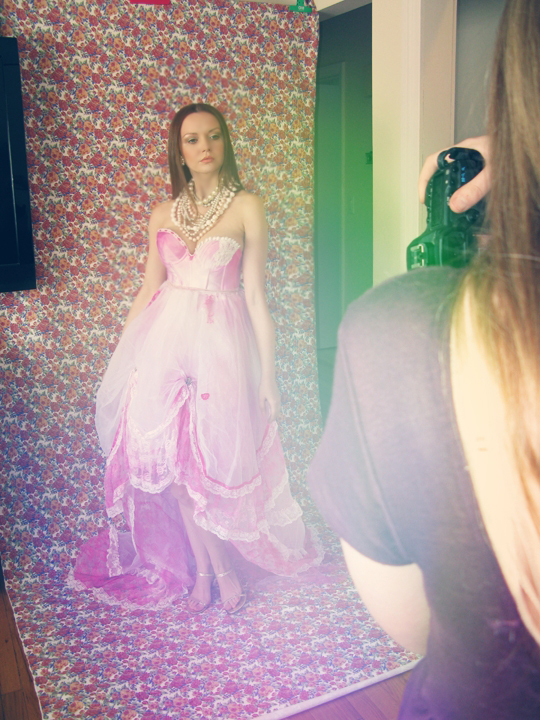 BAUBLESSSS baubles BAUBLES and more!!  HERE
<3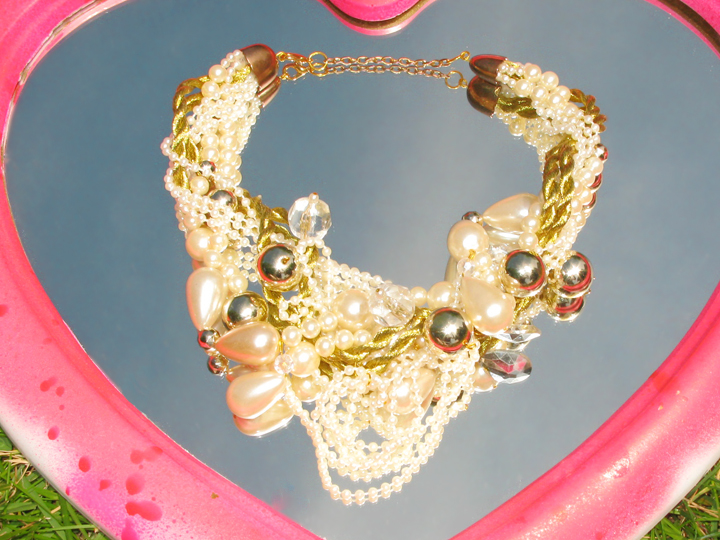 Next look we went with even MORE GLAM!!!  FRESH bright colors for eyes, lips, cheeks…and FAIRYTALE Fishtail braids galore!!!!
<3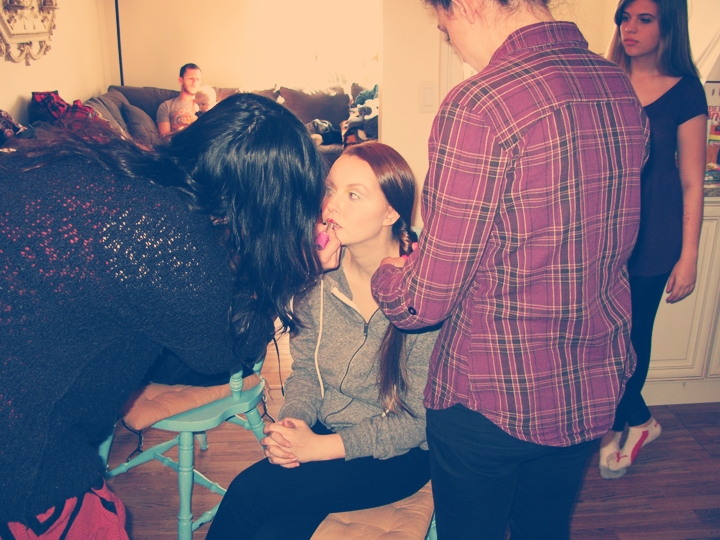 …it's like MAGIC!!!!!
WE MAKE Our Own Fairytales <3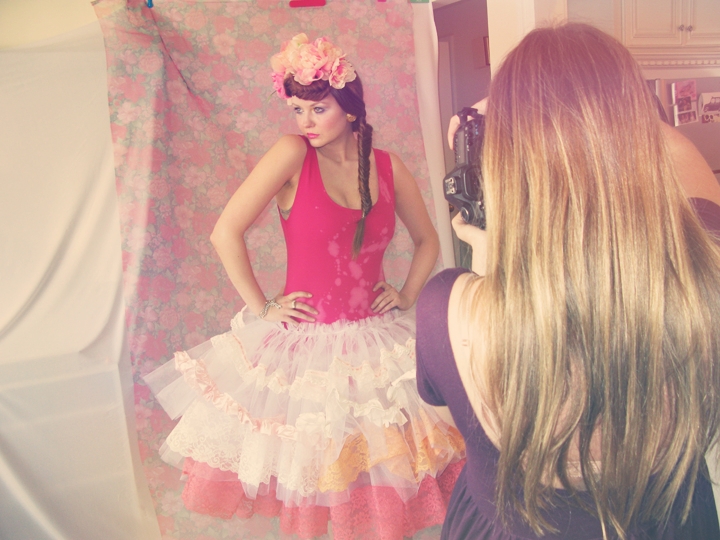 UGHHHHHHHHH can't even deal with how cute everything came out!!!!
Toni adding last details to an AMAZING look!!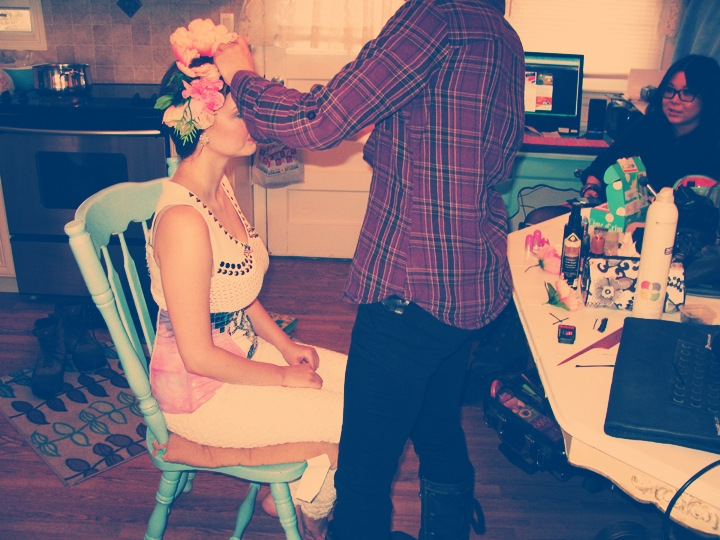 CHIC studded cincher LOVE <3
…can't get enough of STUDS!!!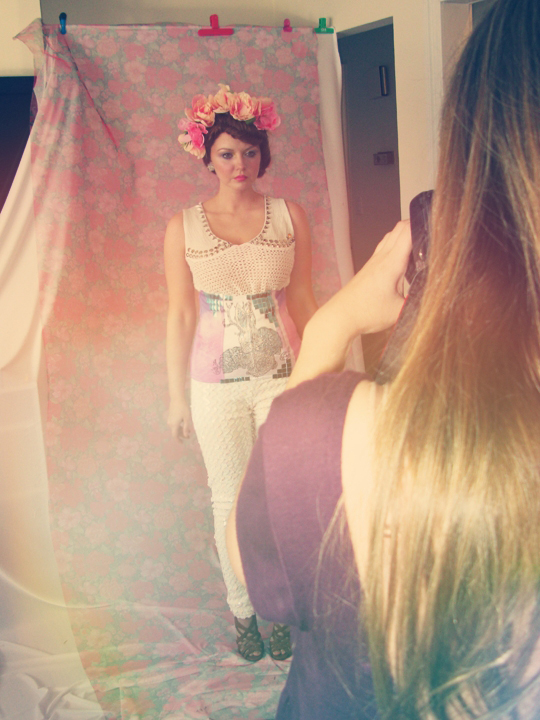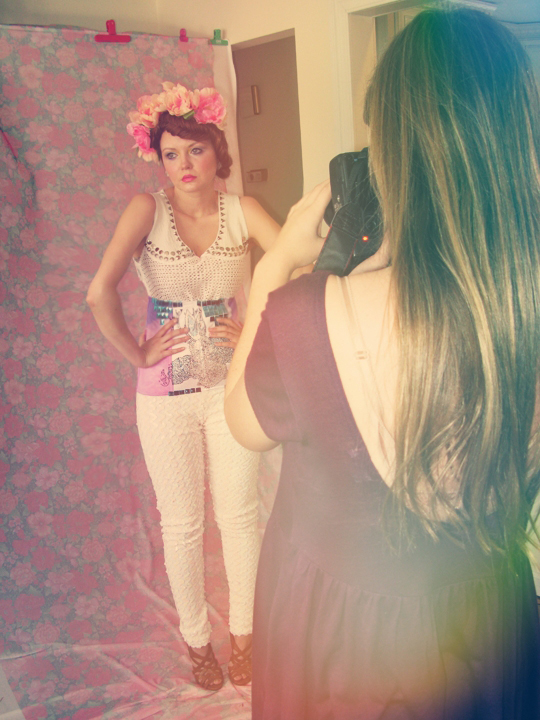 Her profile!!! <3
….and the FABULOUS Marisa taking her MAGICAL pictures!!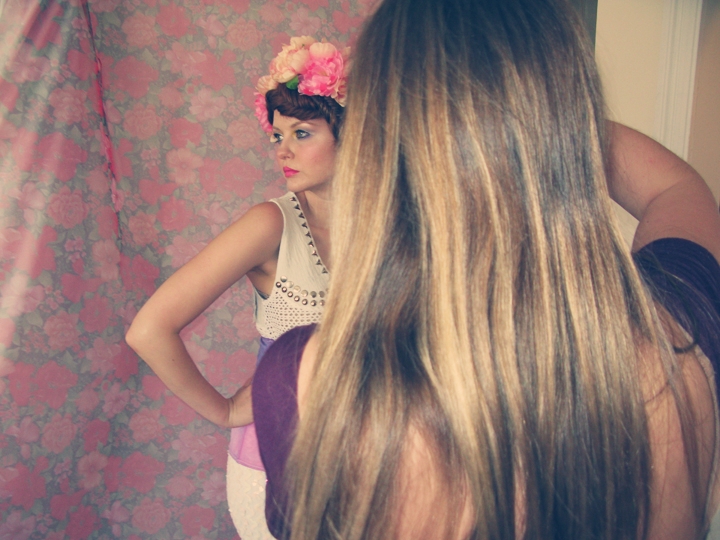 …VINTAGE earrings from a PERFECT vintage shoot!!!  …EXACT earrings for sale NOW!!
…get yours  HERE
<3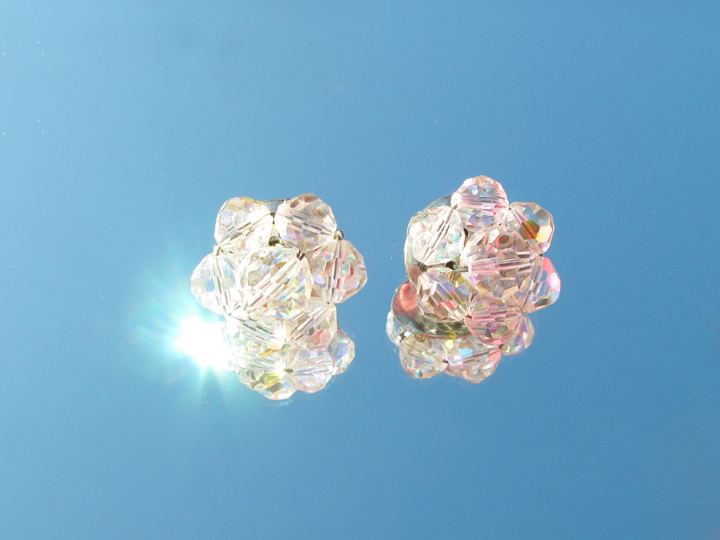 …can I just stay here forever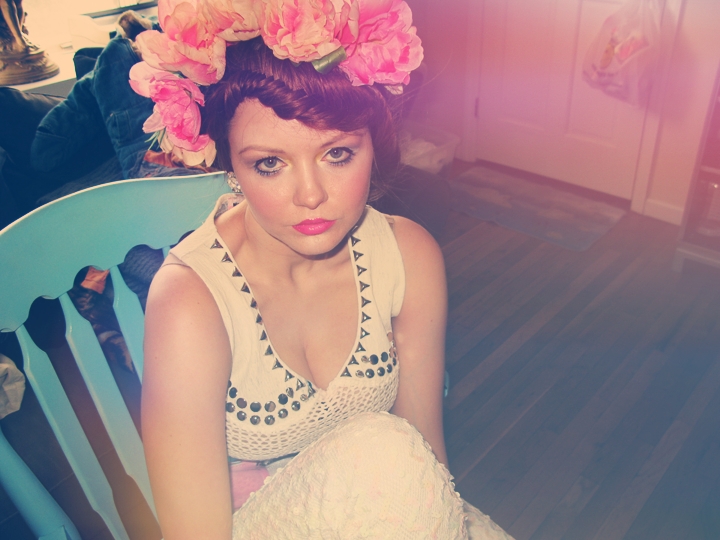 xox
Tuesday, March 5th, 2013
Different is Beautiful <3
…I remember as far back as elementary school…I was always "different" than everyone else. My style was"different". It wasn't until high school that I didn't care what other people that and just became ME. If you're different…know YOU'RE BEAUTIFUL <3
Sooo incredibly proud of this collection!! …was sooooo much fun to create and sooooo much fun to shoot!!!
BACKSTAGE at the Ring Around the Rosie PLAYGROUND Photoshoot <3
Erika glams up Nofar
…shiny pixie look with FIERCE eyebrows!!!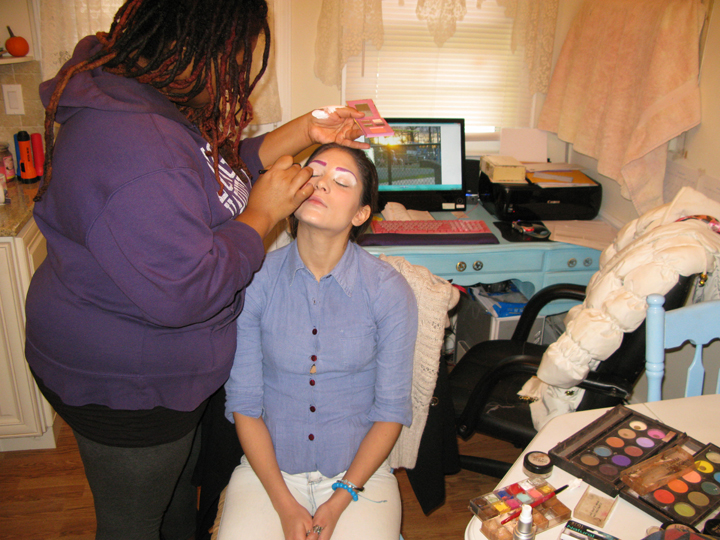 1…….2……….3………….4
In LOVEEE with the Measuring Tape Leggings …get yours HERE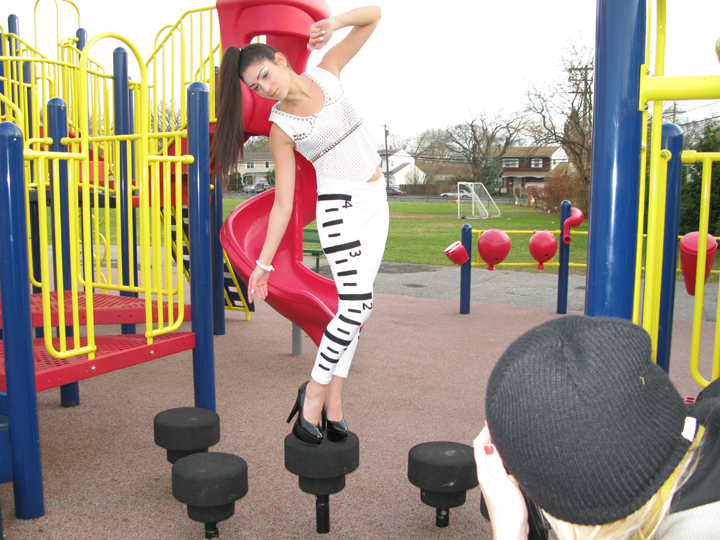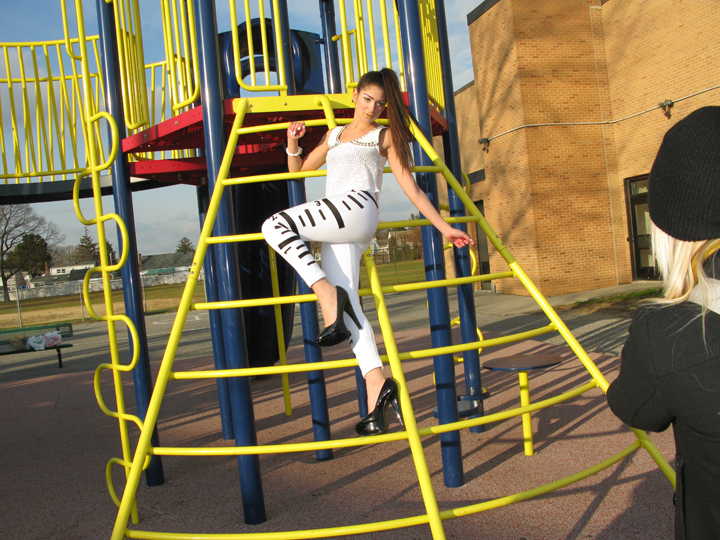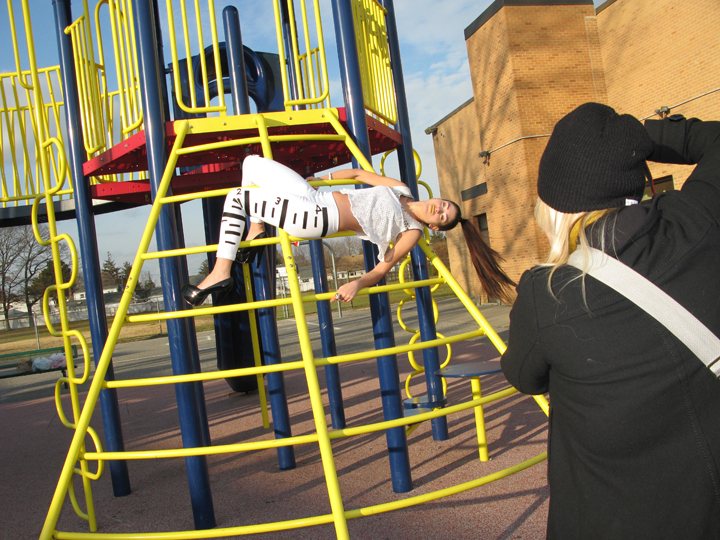 We play on playground
…kids at heart
………..always and FOREVER <3
Tune OUT Tune IN
Limited Edition TV Tank Top ONLY $35 !!! HERE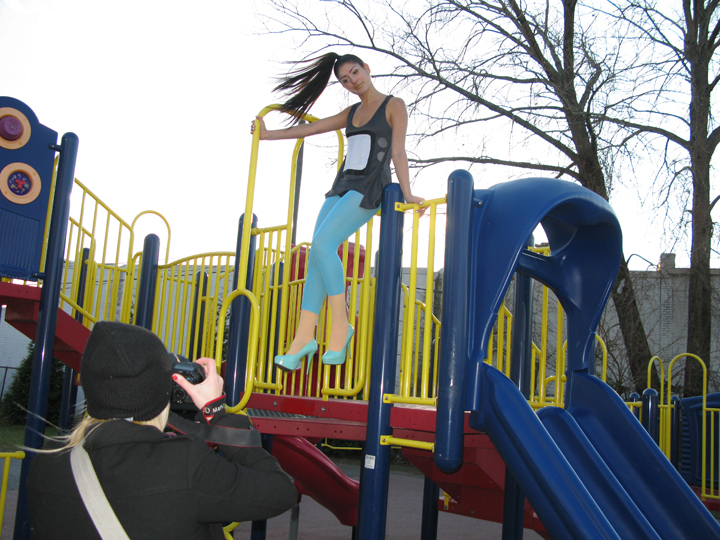 Bubblegum pancakes…..mmmmmm….they sound tasty!!
The PIANO Crop Top is soooooo frickin' CUTE!! Wear with a tank top underneath, or with a high waist skirt and knee high socks…..soooooooo much FUN!
ONLY $35 HERE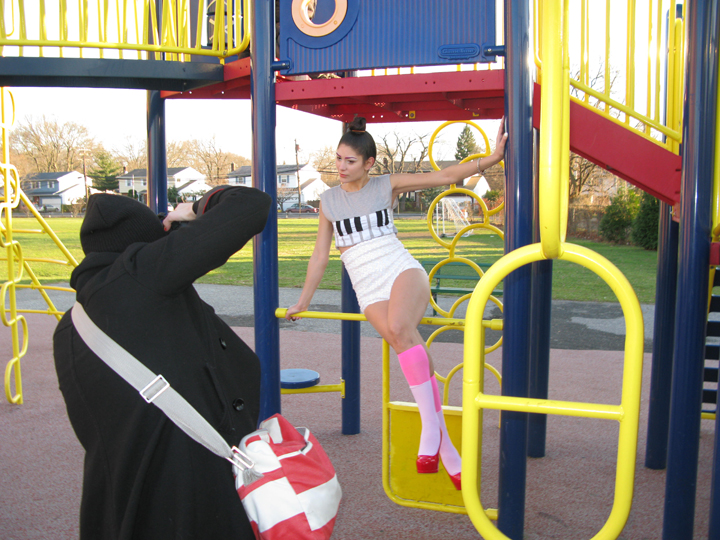 I CAN'T HEAR YOU!!!
The VEGAS Sequin Shorts were SOLD OUT…up until these suckerssssssssss came out!!
Limited Edition in CLOUD WHITE High Waist Shorts
…get yours HERE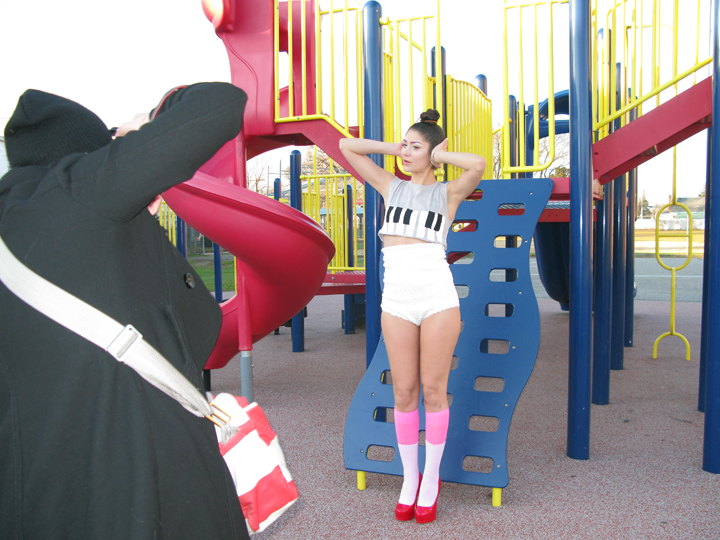 This looks like heaven
…marshmallow clouds <3
<3
Seasons change
And so do we <3
SPRING starts THIS month and we CANNOT wait!!!
SUCH a happppppy season!!! Walks, and beaches, and birds chirping…LOVELY!!
…backstage makeup change
…WILDDDDDDDD MAKEUP time!!! …and Nofar plays with my little man (who I think is just the CUTEST thing EVERRRRRRRR born!!)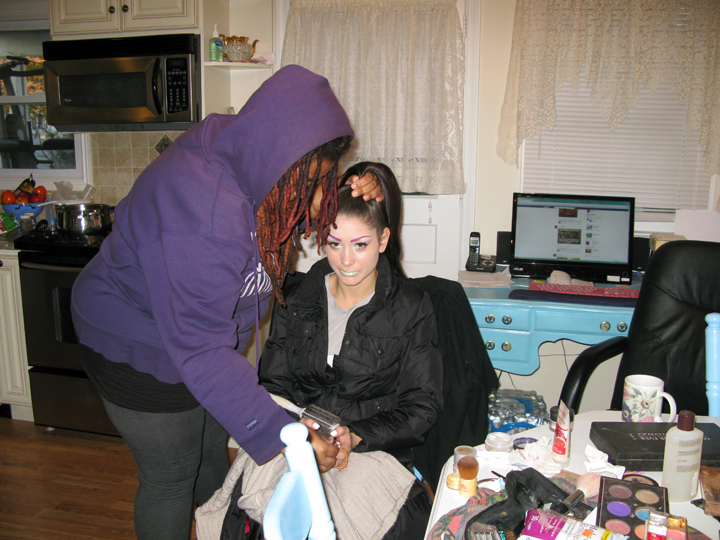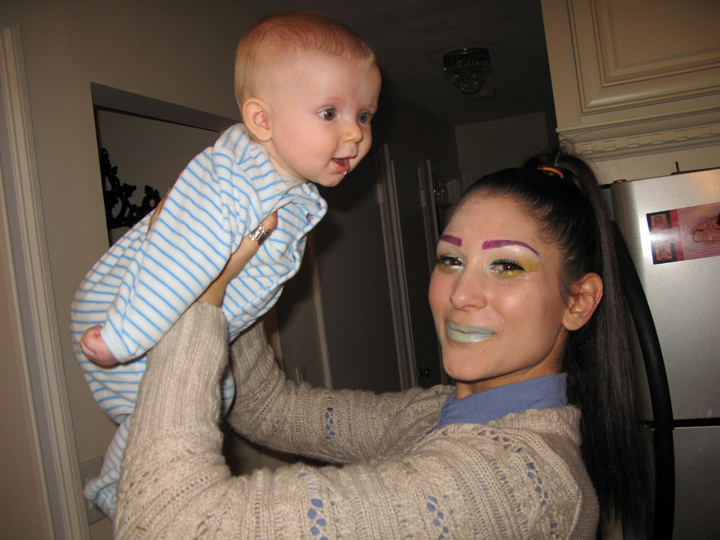 JUMP into the ocean
……get ready for the WAVES and currents!!
<3
RAVISHING!!!!
The Ocean inspired this dress…sea-life…shimmer…nature's ombre turquoise to green <3
The AQUARIUM Dress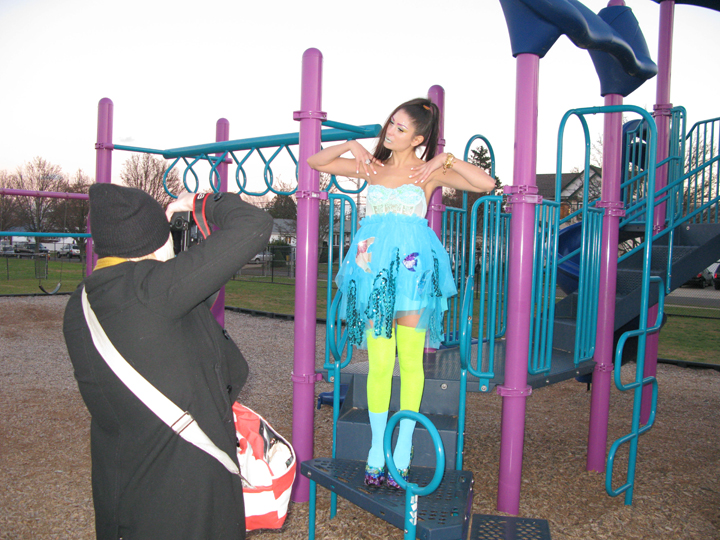 FISHY FISHY
Monkeying around on the jungle gym!!
It was sooooooooooo cold out!
Poor Nofar was dressed like it is summer and we're all in winter coats…she's BADASS!!!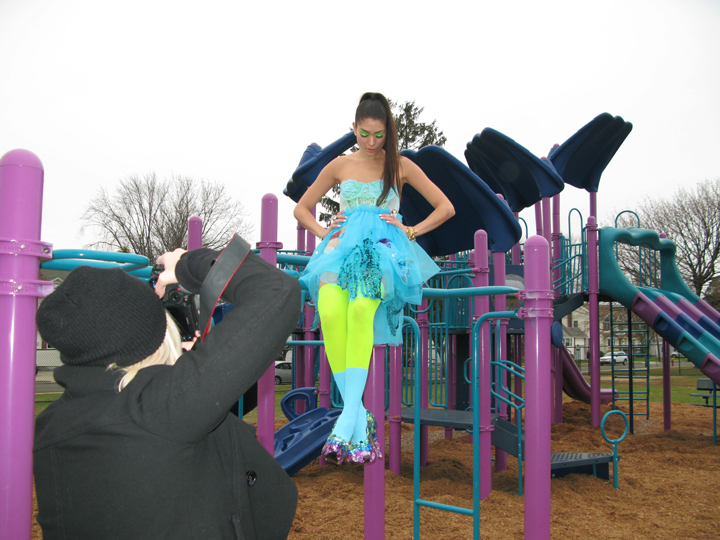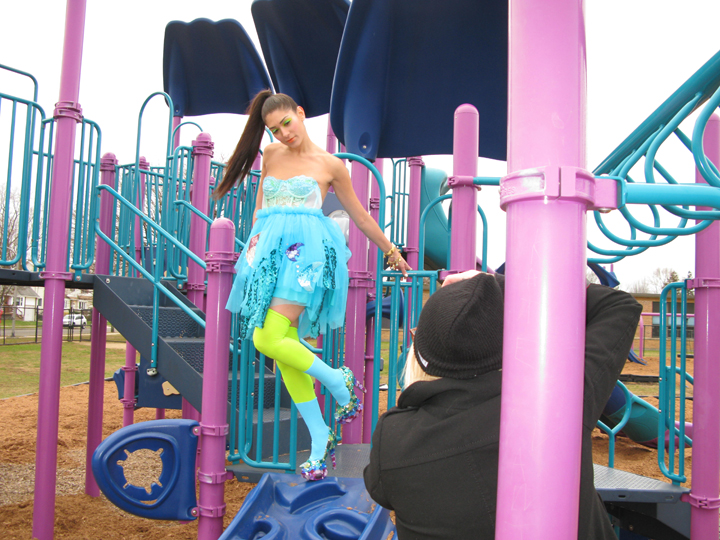 …sooooooo in LOVEEEEEEE how these came out!!
…soooooo MAGICAL!!
Other Bustier PARTY Style Dresses HERE (or email us to create a CUSTOM Dress like this for you: info@newyorkcouture.net)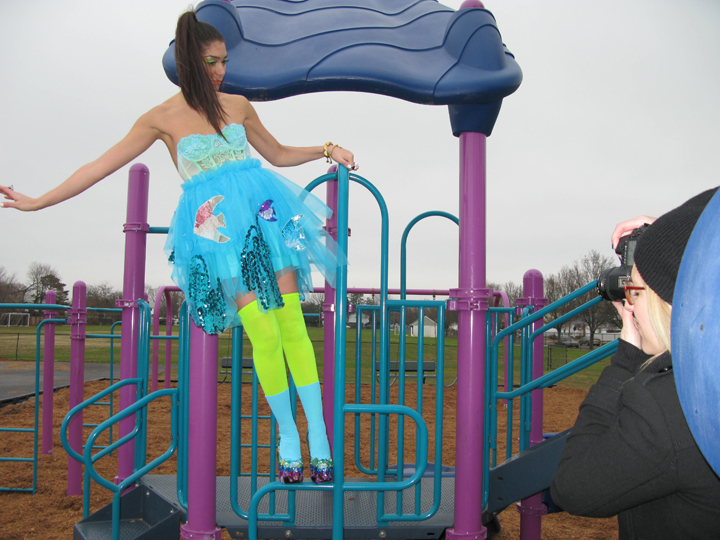 I don't know what it is….but THIS piece makes me the MOST happy!!!
REFRIGERATOR DRESS
…it OPENS and CLOSES!!! SUPERRR cute and makes me SMILE!!
…get yours HERE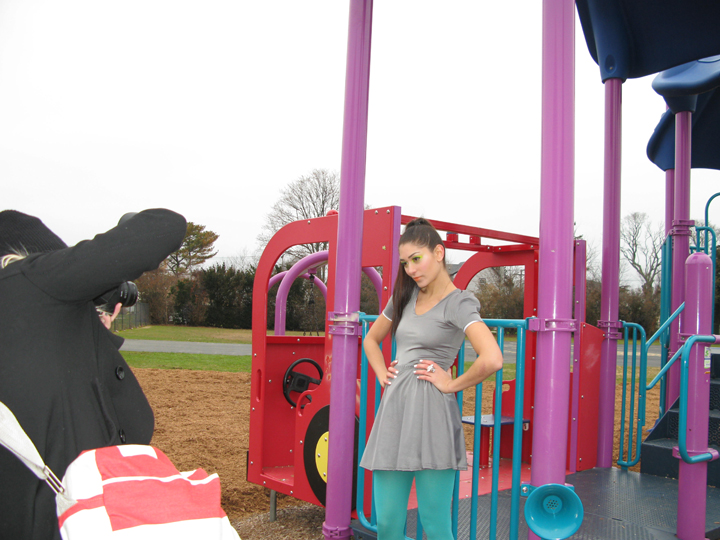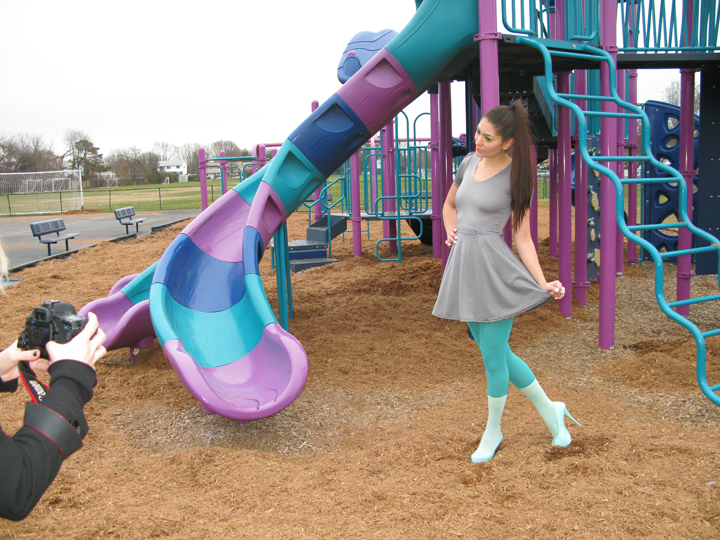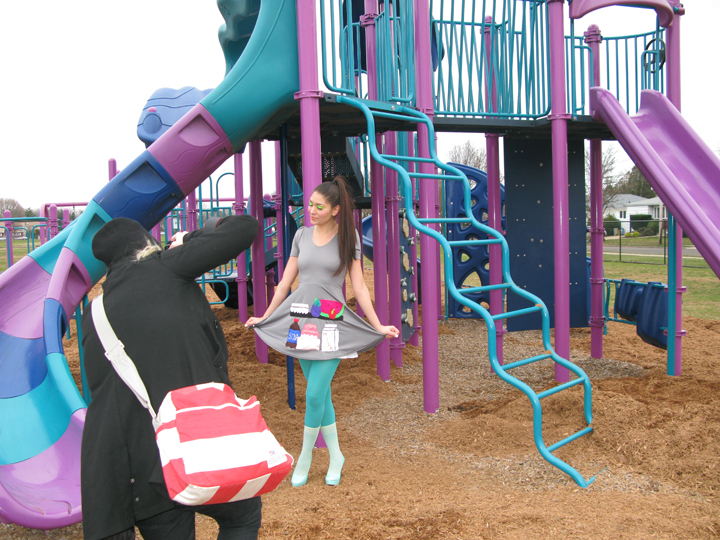 Inside the FRIG DRESS: Cola, Eggs, Milk…mmmmmmmMMMMM
FYI this is the COOLEST playground EVER!!! With the BESTTTTTT colors EVER!!!!
Hi I need to be a kid again so I can play on this!!!!
Write me a note…
The PENCIL LEGGINGS are just AWESOME!!!
Went to playground 3 or 4 to shoot this look…it had security and we almost were not allowed to shoot there…so I sweet talked them and YAY we got to stay!!!
…BEYOND cute….get yours HERE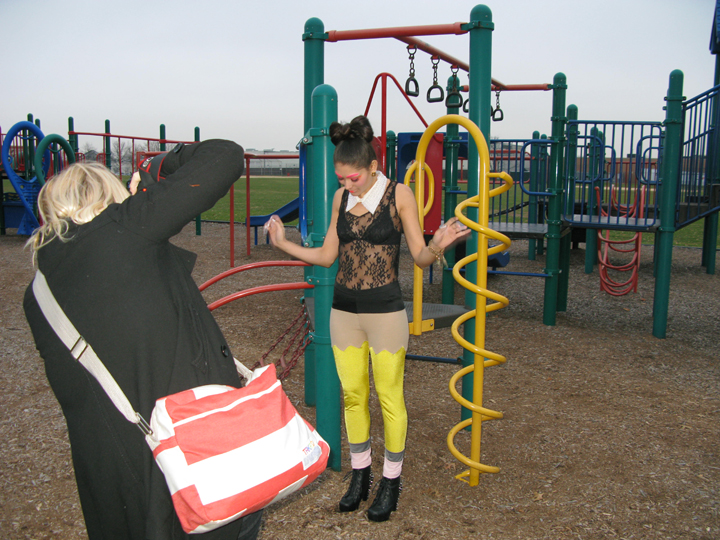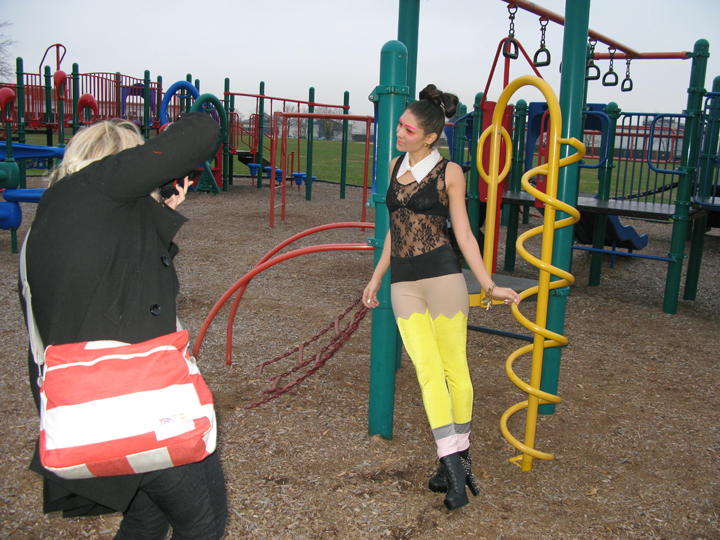 SHINY and SEXY and SWEET!!
Triple "S" threat!! <3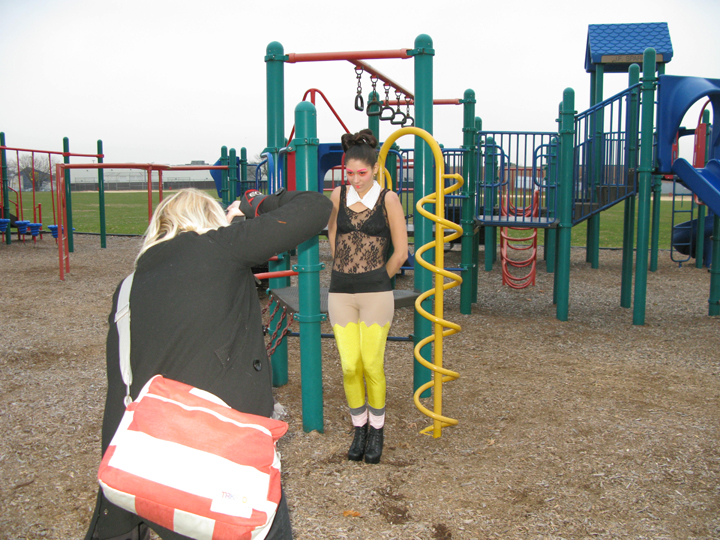 Last look to go with our FUN schoolyard exploration…
…it was starting to get dark…as you can see
…but we MADE IT!!
MEASURING TAPE DRESS
…made with RARE VINTAGE fabric with hints of shiny stretchy black <3
…get yours HERE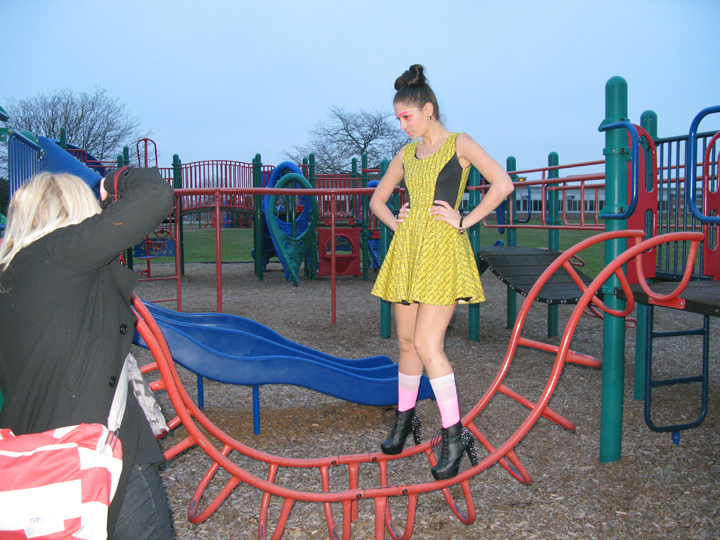 What's a New York Couture shoot without FUN!!@?? …well it's NOT one of our shoots then!!
SLIDE TIME!!!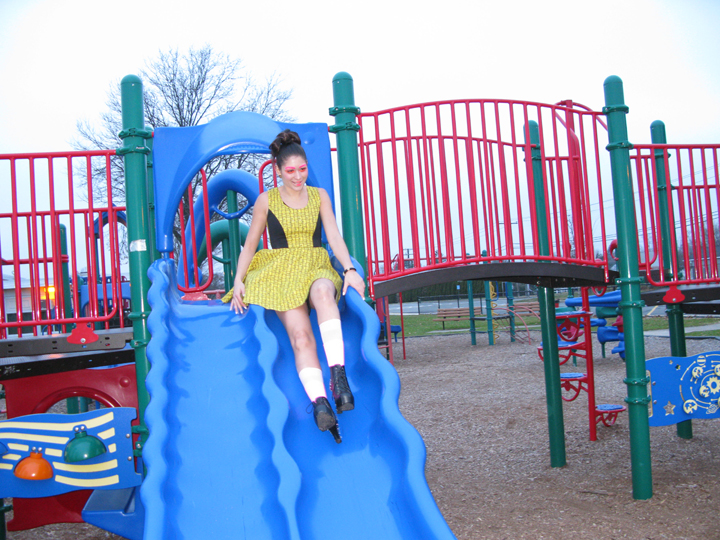 Hope you have as much FUN with this collection as we had making it…shooting it…and now sharing it with all of you!!
<3
xox
Thursday, December 13th, 2012
LOTS of FUN alwaysssssssssss going on at New York Couture!!!!
As you already MUST know…unless you live under a rock…which MUST SUCK!!!  …the New York Couture HUGE Anniversary Sale is going on NOW NOW NOW!!!
…items 75% off…everything $5 and up!!  INSANITY!!!
And if that wasn't enough to be EXCITED for…OUR BIRTHDAY is THIS SATURDAY!!!!!!!!!  December 15th we turn 8 !!!!!!!!!!!!!!  YAY!!
…to celebrate this MOMENTOUS occasion for the FIRST TIME EVER we will be releasing our NEWEST Collection…that you will LOVEEEEEEEEEEE!!!
AND it starts the MADNESS of KILLER items during the Sale…so GET READY!!!!!
THIS SATURDAY the *newwwwwwwwww* collection comes out!!!!  AND start of sale ending soon madnesssss!!!!!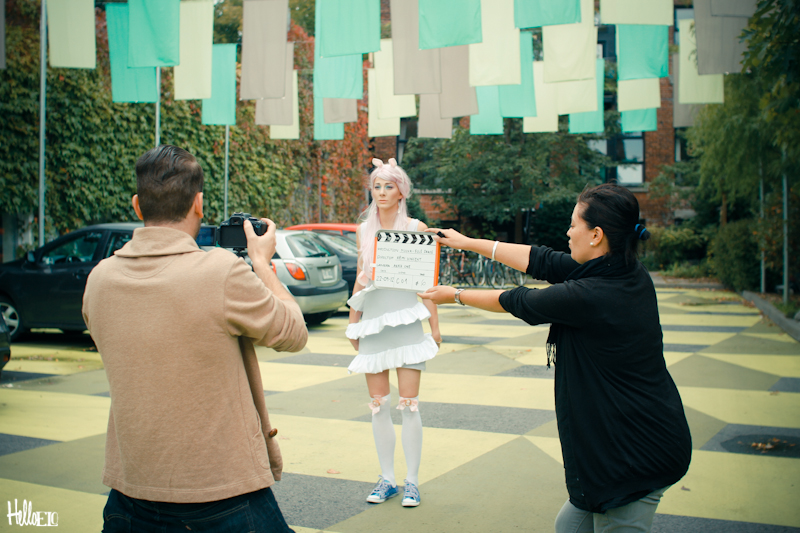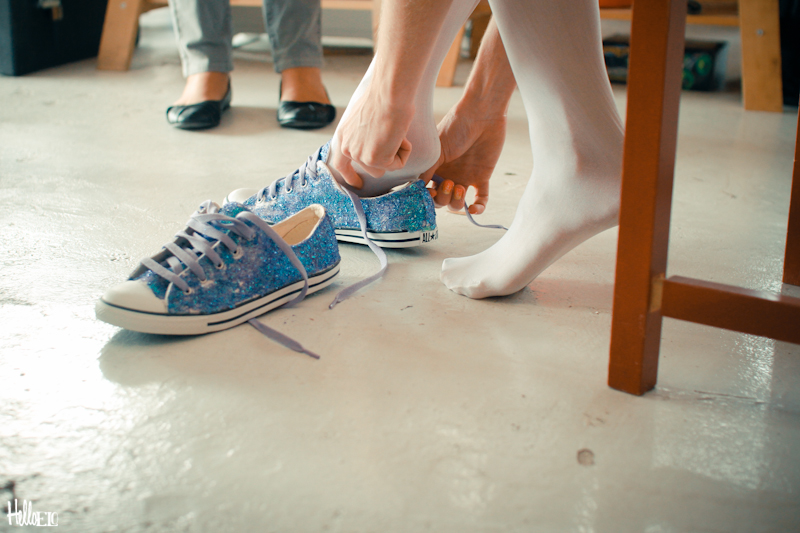 NOW for the FUN Tokyo Street Style Photoshoot pics!!!  See ALL the suppperr cute photos from this shoot HERE
Shot in Montreal Canada…SOOOooooOOooo much fun and COLORS
…which we LOVE!!!
AMAZING styling by our lovely best friend Elodie <3
…NEVER BEFORE SEEN *Snake* Dress available NOW for our HUGE Anniversary celebration HERE
…get yours now!! *NEW COLOR* new color *NEW COLOR* !  <3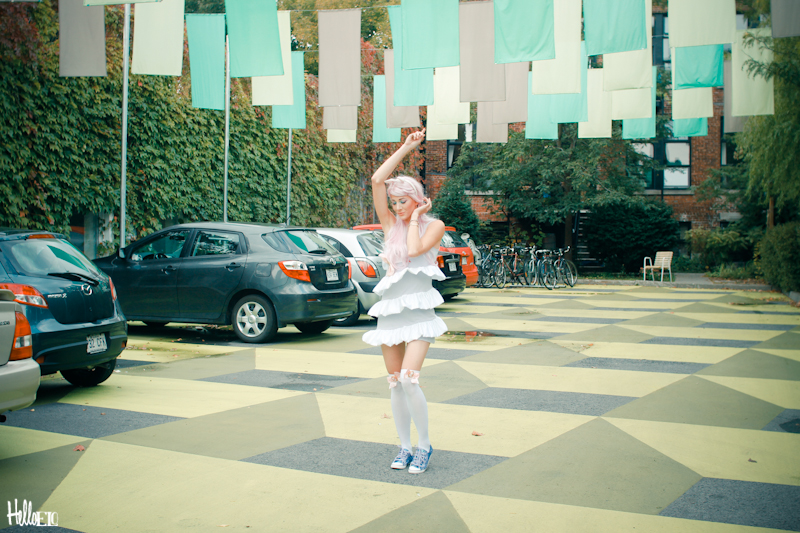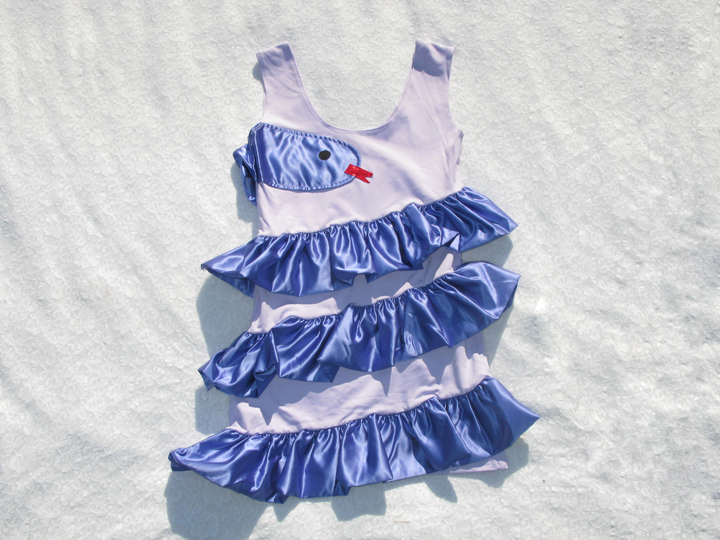 GOLD and BANGLES
…two things we LOVEEE
<3
POW!!!!!!!!!!!!  <3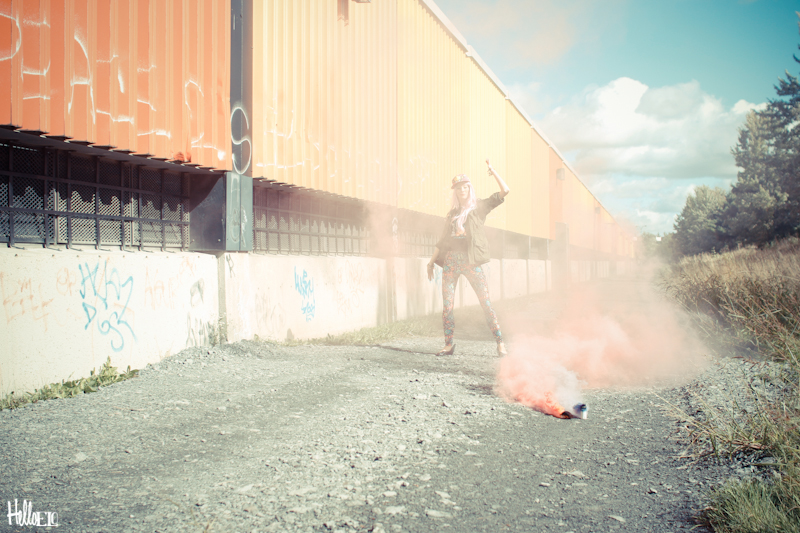 SMOKE BOMBS are alwayssssssssssssssss FUN!!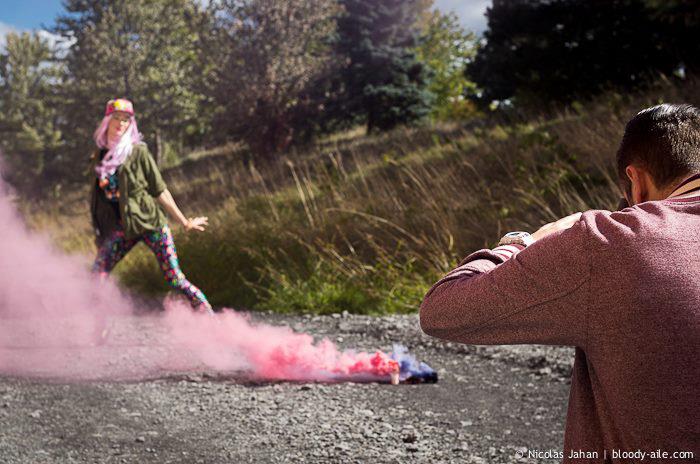 EYE loveeeeeeeee this!!  <3
: )
…get your Limited Edition LACEY Shorts ONLY available NOW during our HUGE Anniversary HERE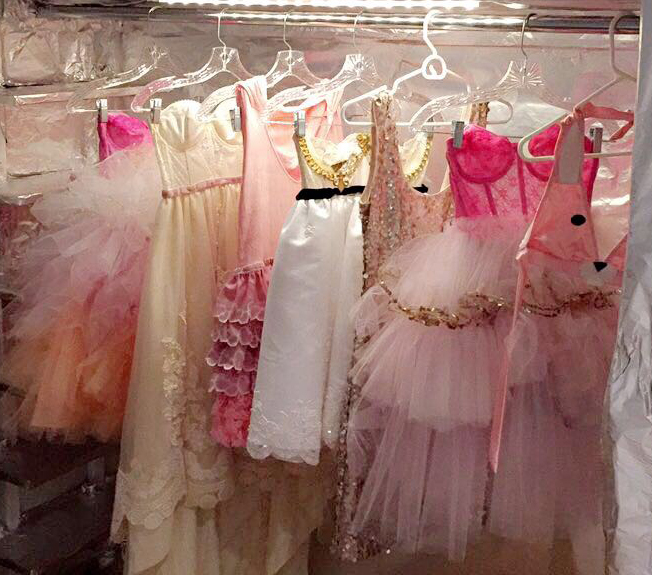 Pretty sweet donut eater!!
…we want hair that cute!!
AND a gummybear ring!!!!  : )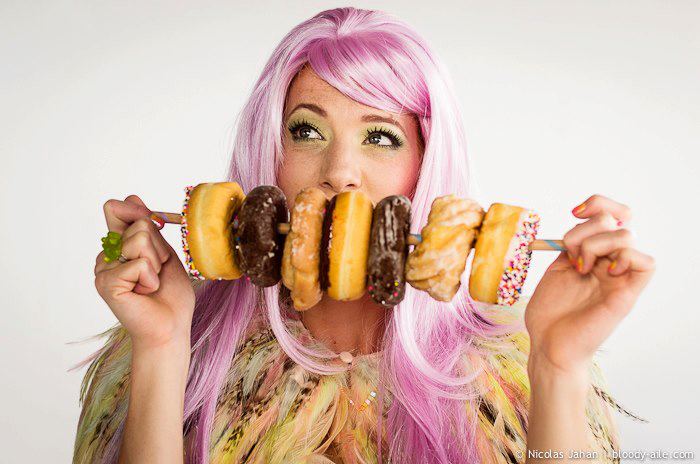 POP em' bitches!  lol
BOOGIE DOWN!!
LOVEEEEEEEEEEEeeee how Elo layered our Jumper with this cuteeee outfit!!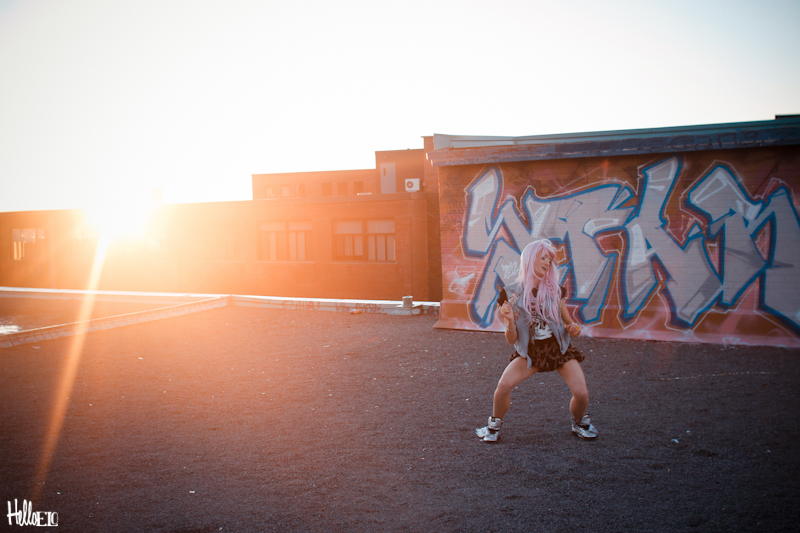 BESTIE Elo
<3
loveeeeeeeeeeeeeeeee her <3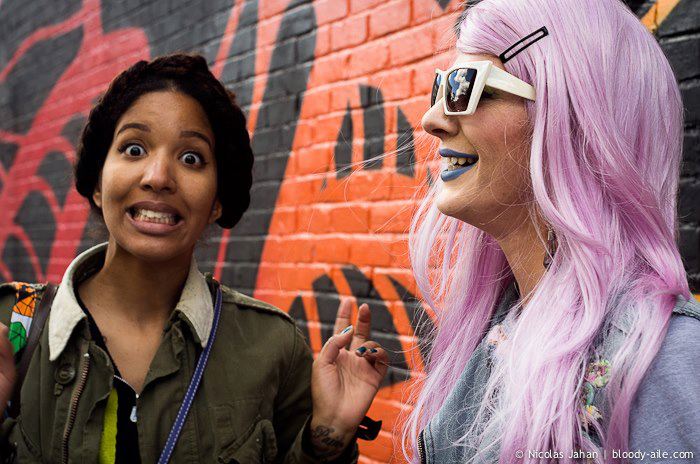 Backstage BONANZAAAAAAAAAAAAAAA
…aaaaaaaaaaaaaaaaaaaaaAAAAAAAAAAAAAAAAAAAAAAAAAA….lol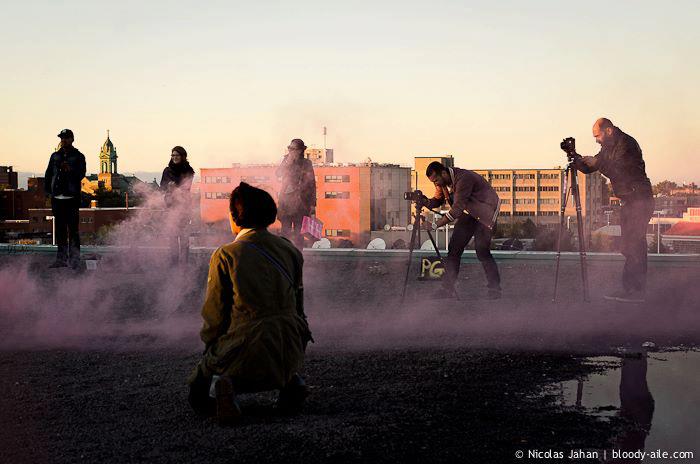 …sooooooooooooo LOVEE the snakes…slitherrrrrrrrrr
Snakes back NOW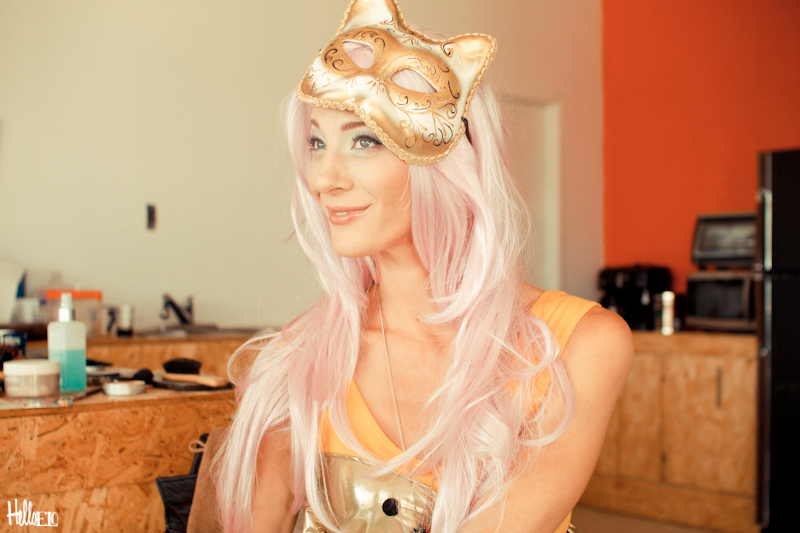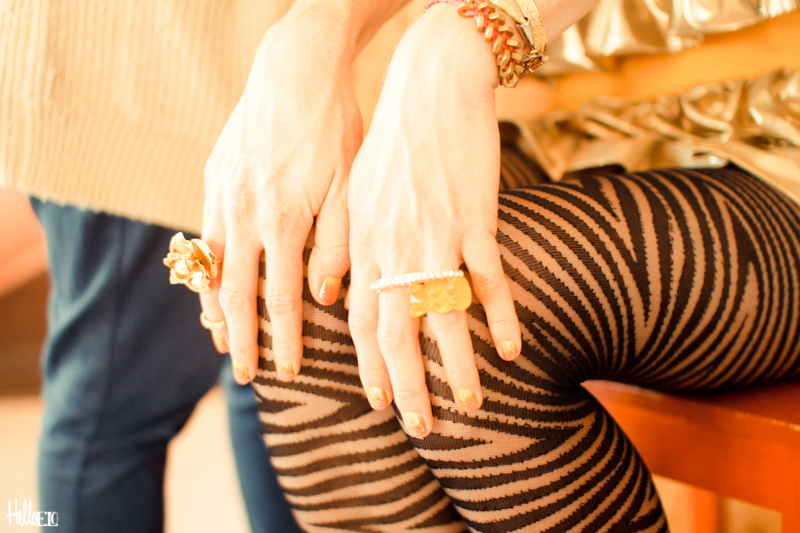 SNAKES SNAKE SNAKE
yyyyyyyayyyyyyyyyyyyyyy
<3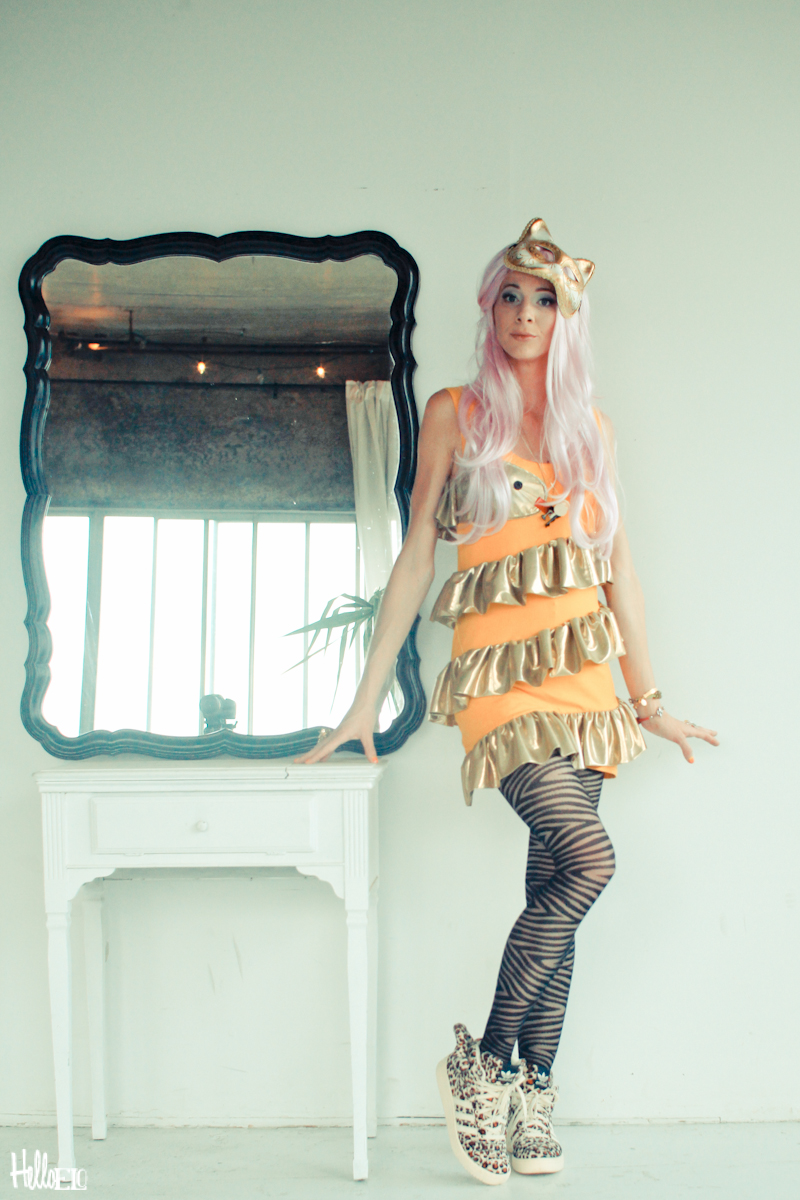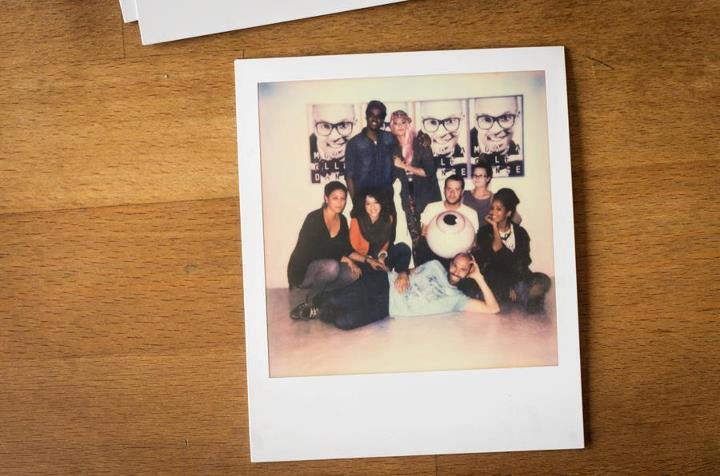 Thursday, July 12th, 2012
Summer is ICE MELTING!!!!!
…and this shoot is ESPECIALLY hot!!!  SIZZLE!!!  *NEW* color Dreamsiscle Skull Crop Top color in MARSHMALLOW!!  <3  …coming this month!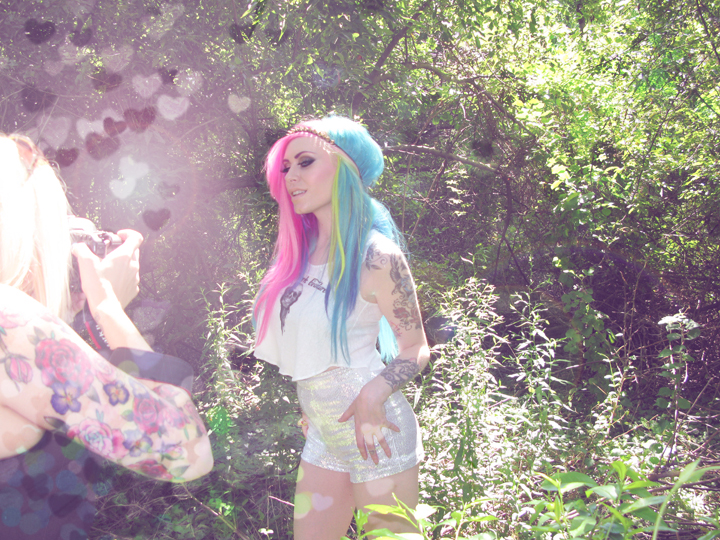 We met Peter Pan and the lost boys…
…got sprinkled with pixie dust
…swam with mermaids…and even became one!~  What a MAGICAL day!!!  *NEW* Sequin High Waist STARGAZER Shorts in TWILIGHT SPARKLE <3  …coming this month!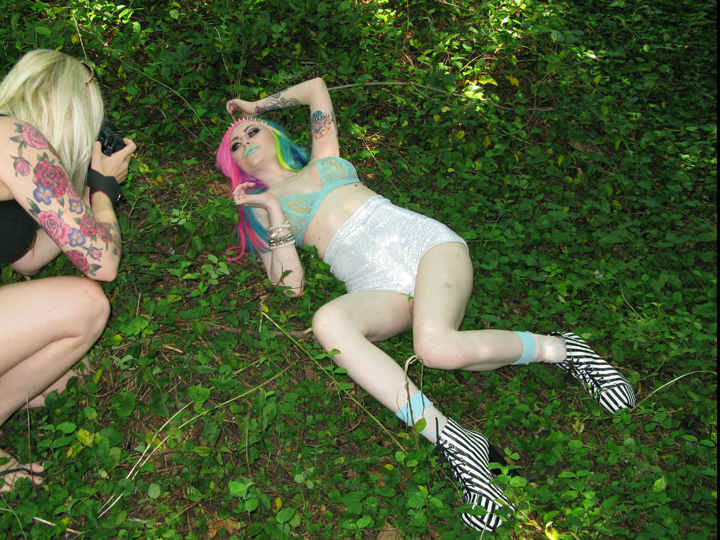 ROCKSTAR Hoodies….sooo KILLER!!!  Each one ONE OF A KIND~!!!!  … also coming this month!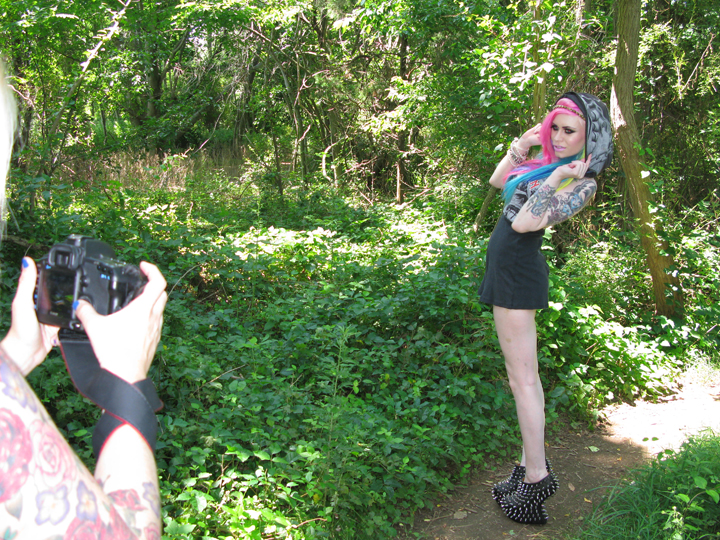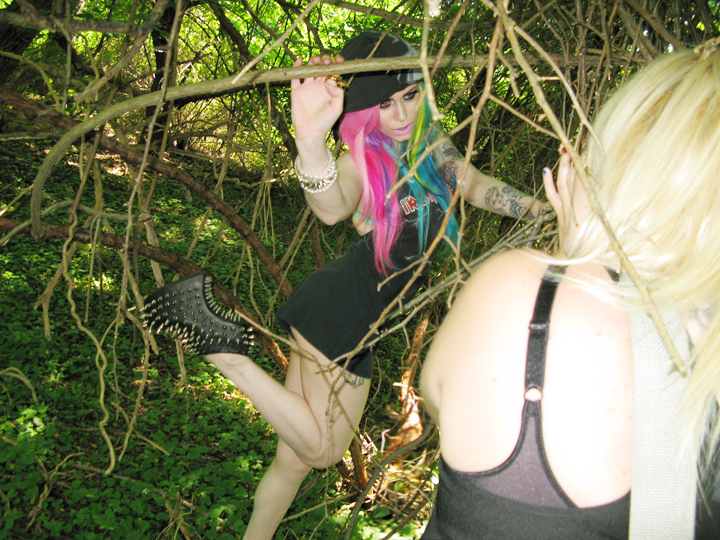 …and T-Shirt Strapless Rompers <3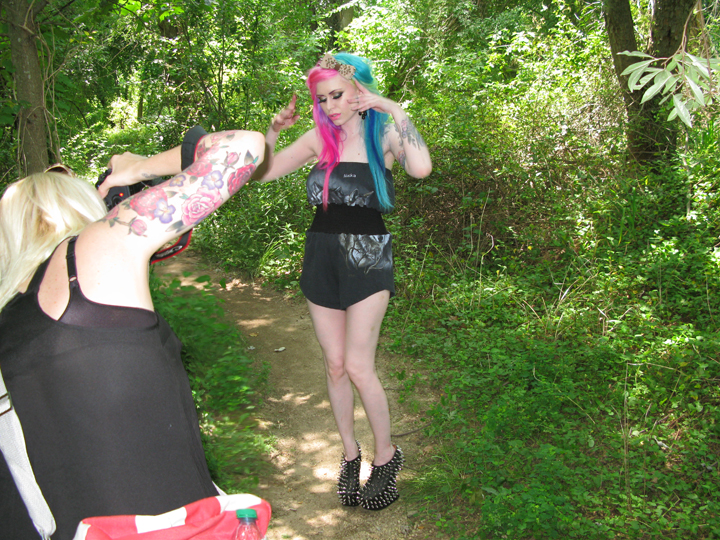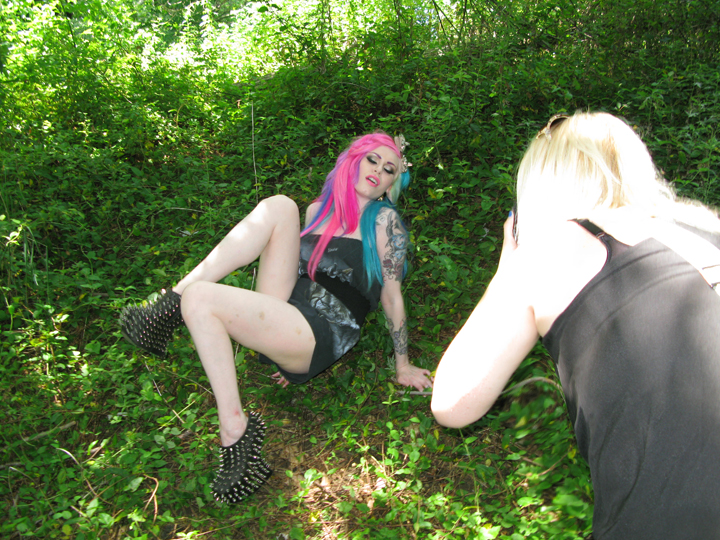 DREAMSCAPES Garter T-Shirt Shorts…
…available NOW…HERE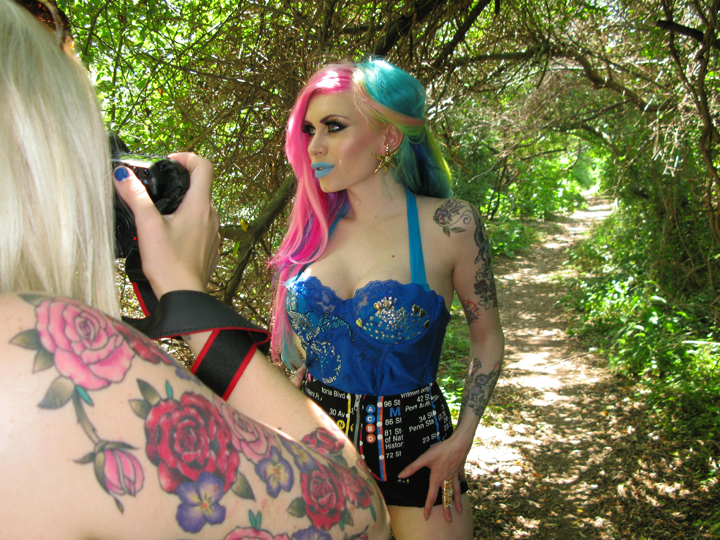 This one is the MOST magical from the shoot!!
MERMAID chic POPSICLE Pastel Party Dress <3  …coming soon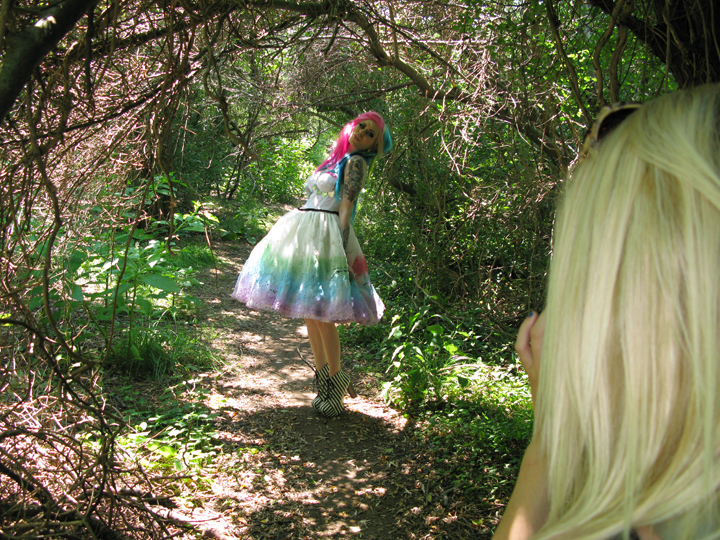 …she is so pretty!!!
<3
CAN'T WAIT to share the edited pics with all!!!  These backstage pics are PRETTY amazing…just think how INSANE the real pics will be!!
LOVEEEEEEEEEEEEEE!  <3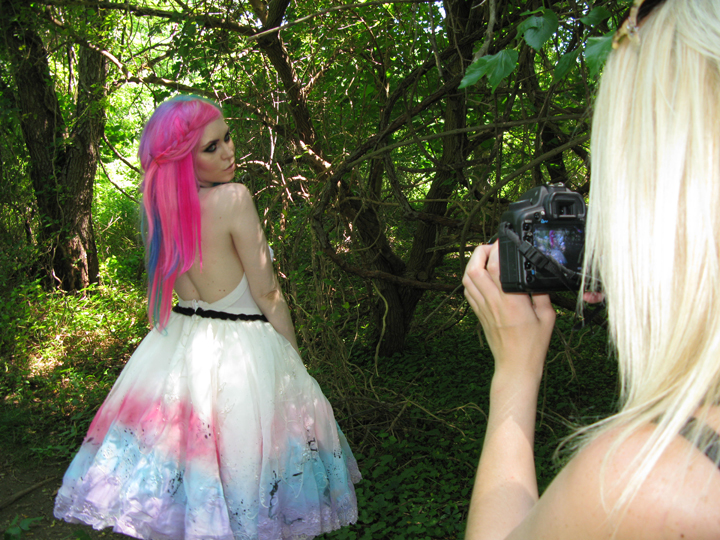 Tuesday, April 17th, 2012
BUSY is an understatement!!!  Soo much fun-ness going on!!!!  And SUPER pregnant!!!!!  AGHH!  lolol.  Little baby growing inside is making me EXTRA creative…so LOTS of fun new pieces!!
…with the GORGEOUS flowers blooming everywhere…we just HAD to do a Garden themed shoot!!!!  Of course I added a mix of punk-rock chic to my garden : )
It was a beautiful SUNNY day out on Sunday…PERFECT for our FUN shoot!!  You'll even catch BIG belly pics of me in this blog!!!    <3
These are MAGICAL!!
Hope you like!!
BACKSTAGE at the Fairyland Garden Photoshoot
Could I look MORE pregnant!!@??
Thalia…my stunning model…looking AMAZING in front of this BURNING red/pink flower bush/tree
<3
Bed full of daisies
<3
…this is where I try and figure out how to use Instagram
…i'm the BEST b/c I figured it out!  lol
Pink is my FAVE color
…so LOVED this part of the garden!!
It's a magical land here
<3
After the shoot…b/c i'm obviously INSANE!!!…I headed into the city to go to the VAR Magazine launch party at the NY Ink Shop.
4000 months pregnant…ONLY pregnant person at the party…hi…i'm funny!!
CAN'T WAIT for this mag to come out!!!  Should have FUN New York Couture-ness's in it…so will keep you posted when it's officially out : )
<3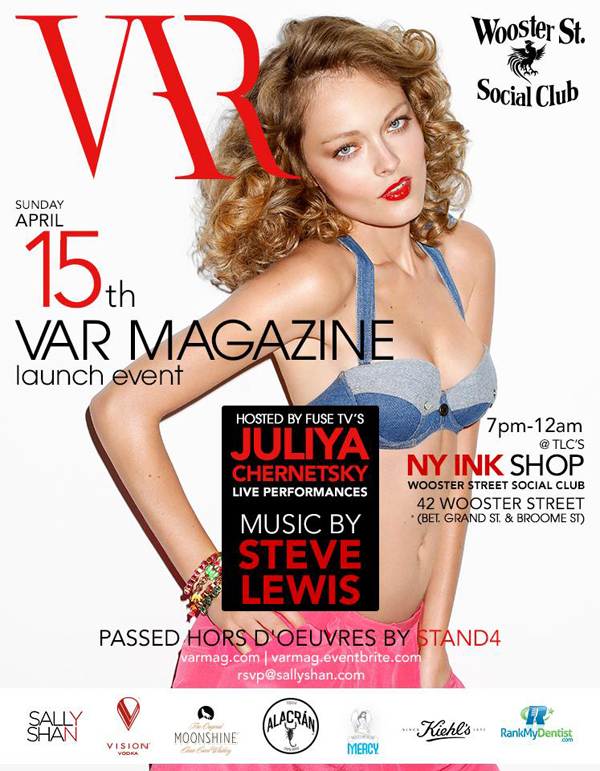 Can't drink alcohol b/c i'm already a good mommy…so used my cup wisely and had a TATTER-TOP PARTY!!
YUMMMMMMMMYYY!!!!
…which of course made me get made fun of…
…my sister kindly pointed out I look like I swallowed a beach ball…thanks sis!
SUPER fun times!!
xox
Tuesday, March 13th, 2012
Just ONE WEEK left….until the BRAND NEW super awesome KILLER Spring 2012 Collection comes out!!!!!!!!!!!!
…as promised…you KNOW it will be worth the wait!!!!!!!!!!!!!
Collection release date again is:  Tuesday March 20th !!!!!!!!!!!!!!!!!!!!!!!!!!
…are your lips watering yet?  They will be after you see the EPIC backstage photos from the collection shoot…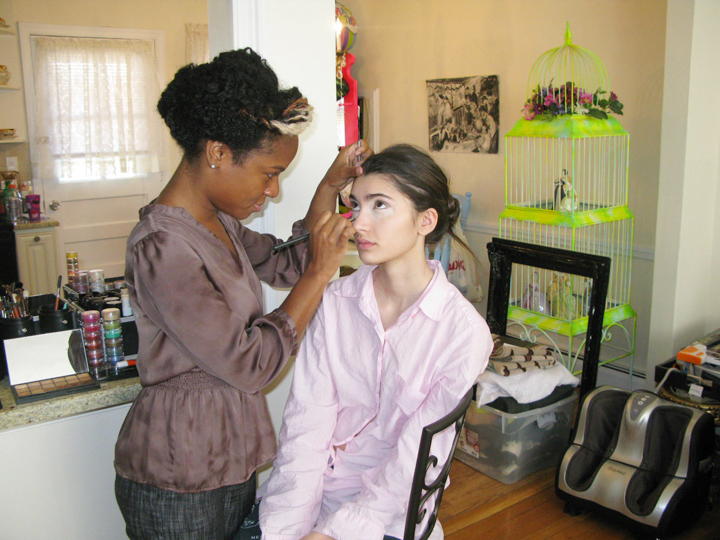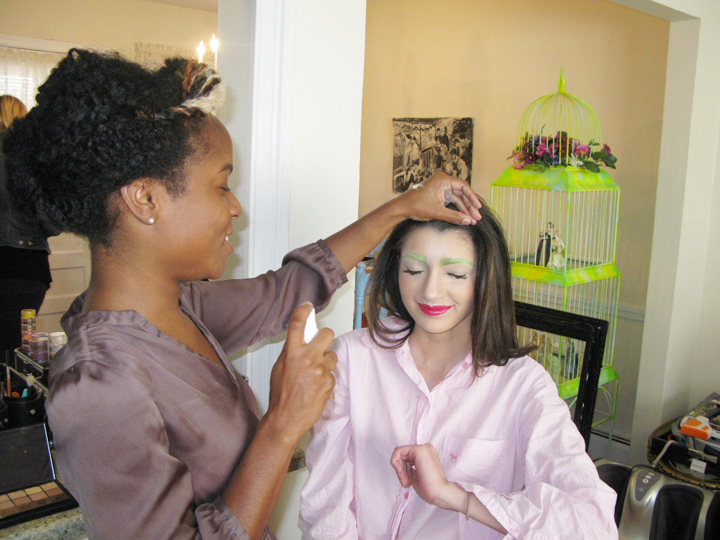 Can't tell you the theme of the shoot yet…but it's SUPER DREAMY <3
Patricia did AMAZING makeup in peaches, pinks, lilac, greens, and other fairytale-esque colors…ADOREEEEEEEEE how my girls came out!!  <3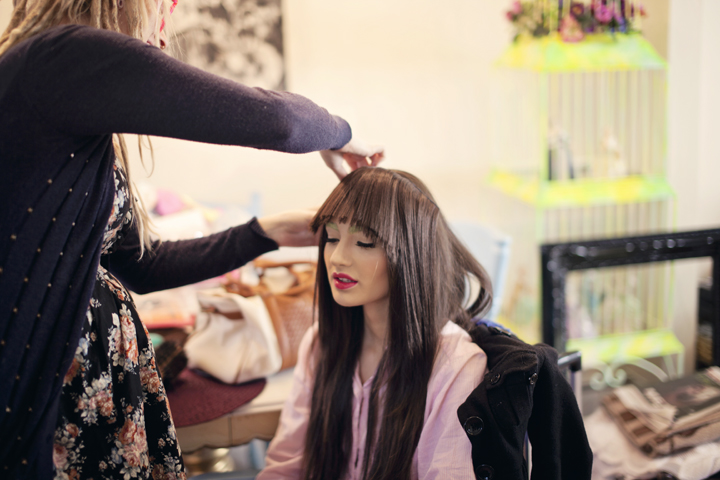 The hair was choppy Japan Harajuku-style anime princesses <3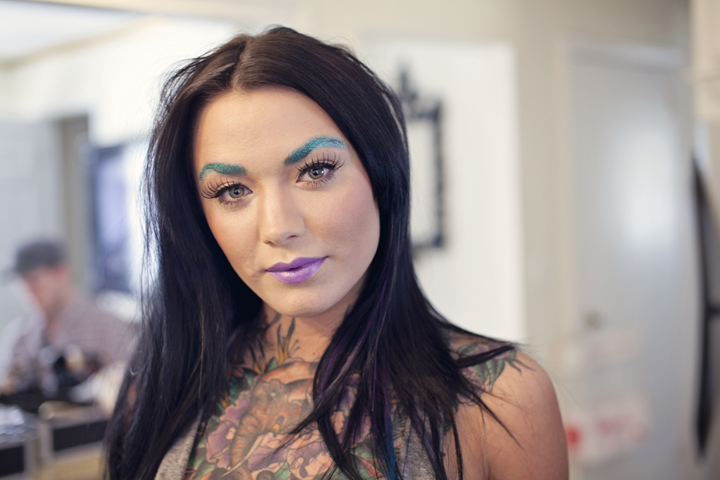 Little baby helped at the shoot too <3
…so sweet <3
…model Alesandra putting her hand on sweet little baby <3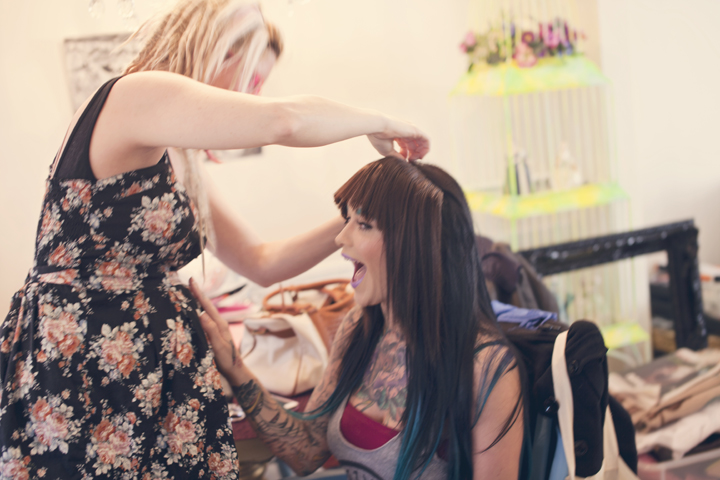 …and the shoot STARTS with a BANG!!!!!
…as usual…these KILLER looks are top secret until they are released next week….but here's a taste of the AMAZING *new* collection <3
OMG LOVEEEEEEEEEE these!!!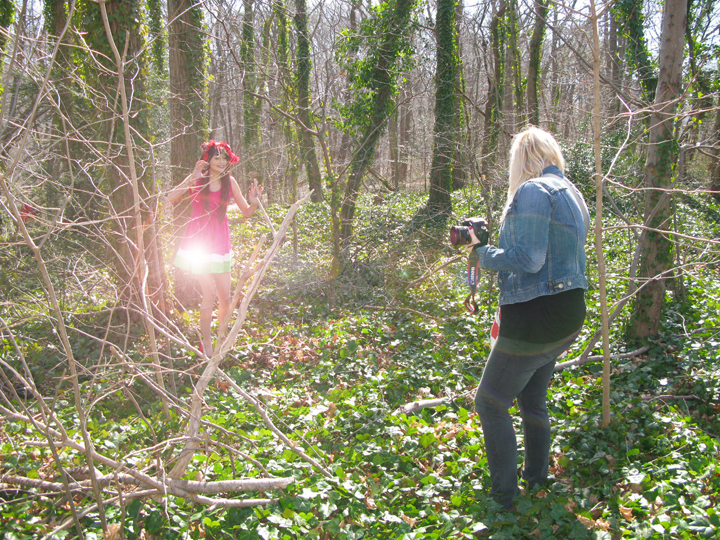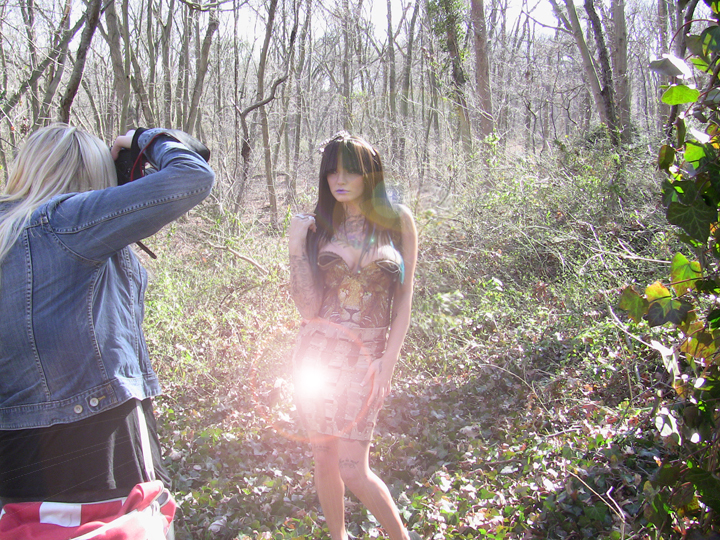 You have NO idea how SCANDALOUS this photo is!!!  lol
…if cops were around…we possibly could have been arrested…typical NYC shoot…lol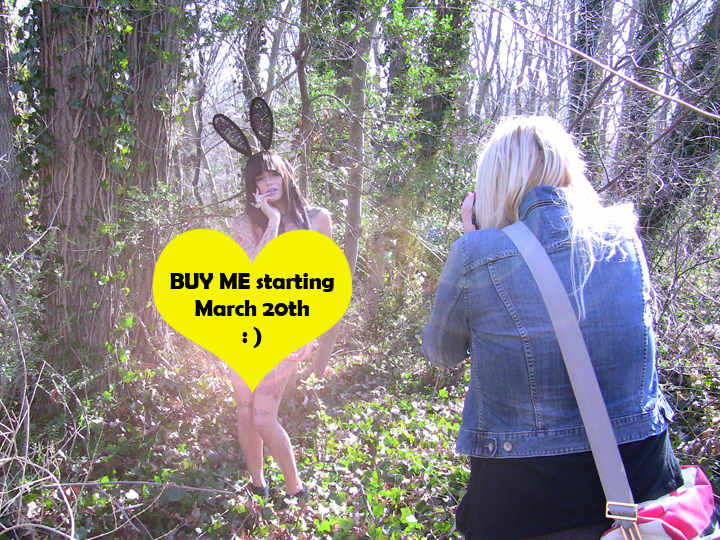 Galaxy dreamland <3
…find out why March 20th  : )
SUPER SPARKLY….!!!!!!!!!!!!!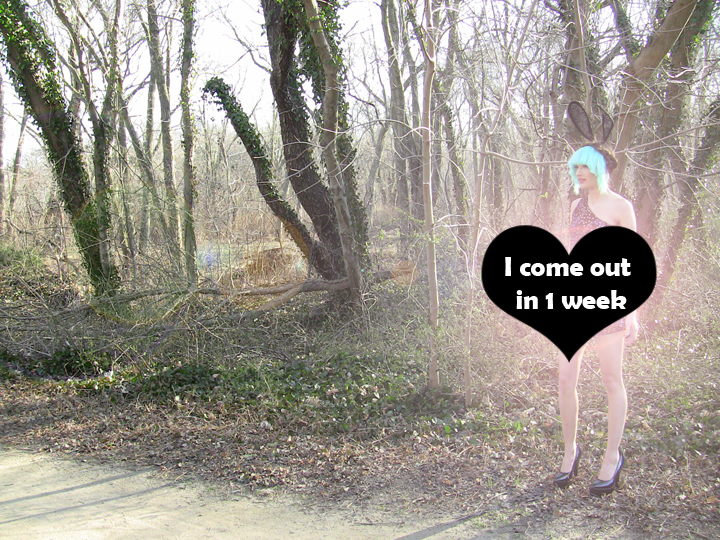 Patricia had the COOLEST lip tattoo's for the shoot…so we HAD to use them!!!!
USA!!!!  <3 <3 <3
…GOD she's pretty!!!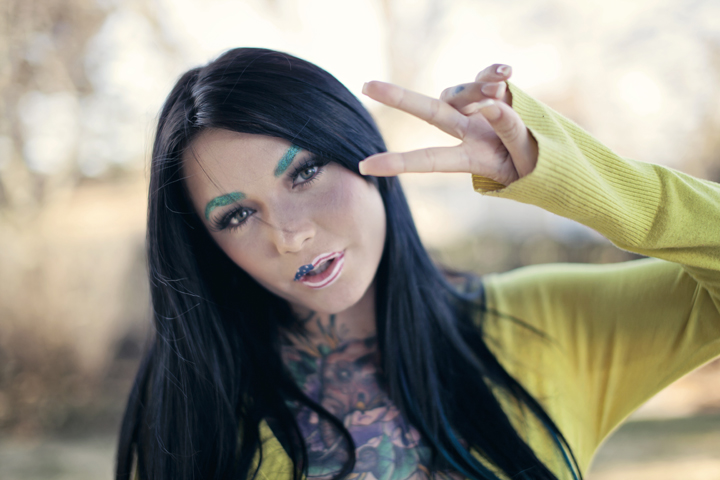 So many frickin' much's LOVE this girl!!
FIERCE-ness with a capital F!!!!!!!!!!!!!!!!!!!!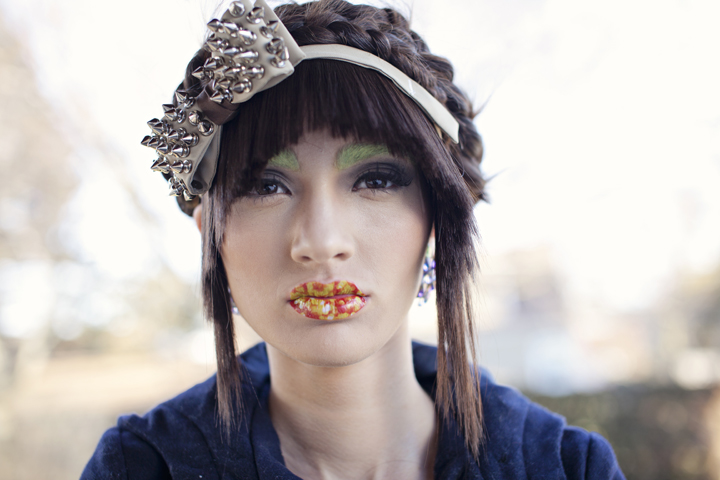 ahahahahaha….true love
…or true torture…ahahaha.  Paige has her boyfriend carry her around…
she wins!!  lolol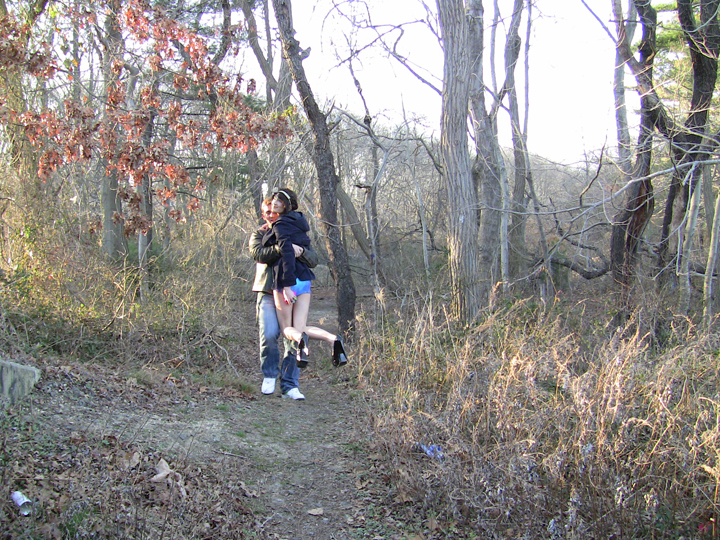 This piece might BITE!  <3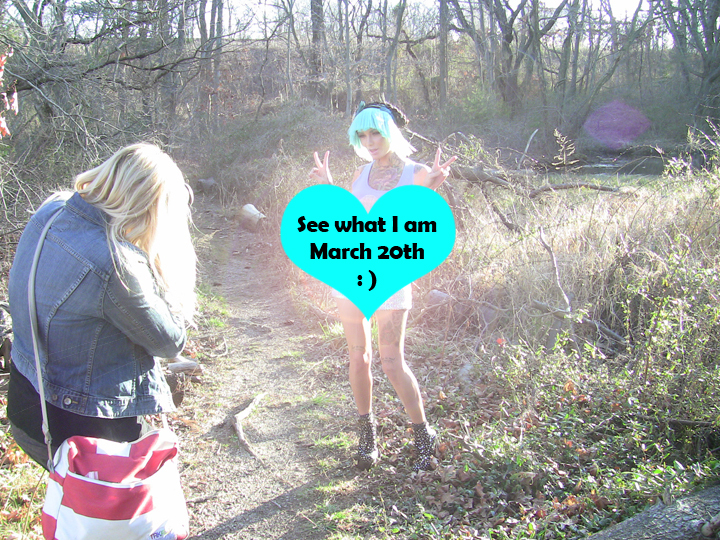 Being SUPER pregnant…and getting all this amazing-ness done is something really BIG!!!!!  It was VERY hard…but when you want something bad enough…you CAN make it happen…so NEVER GIVE UP!!!!
Dreams DO come true <3
The sun LOVED us this day <3
SHINE ON : )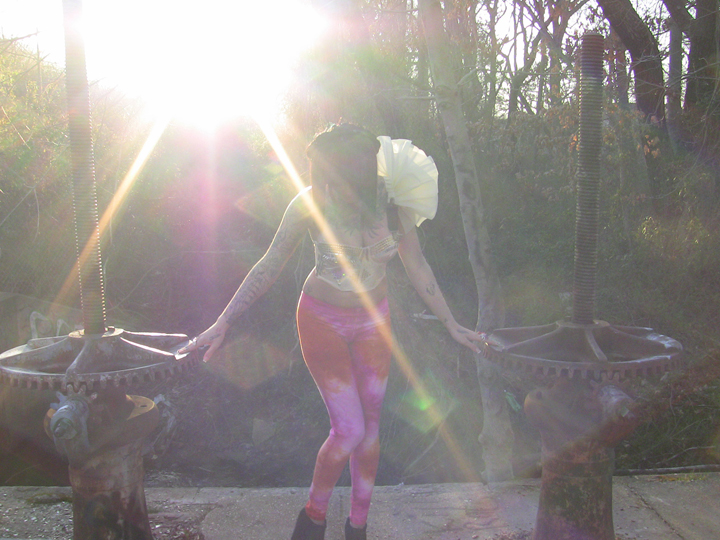 Now all you have to do is wait 7 days…and like magic…POOF!  all this AMAZING-ness will appear!!!
Are you ready!!@@@??
Tuesday March 20th …………..you have been WARNED!!!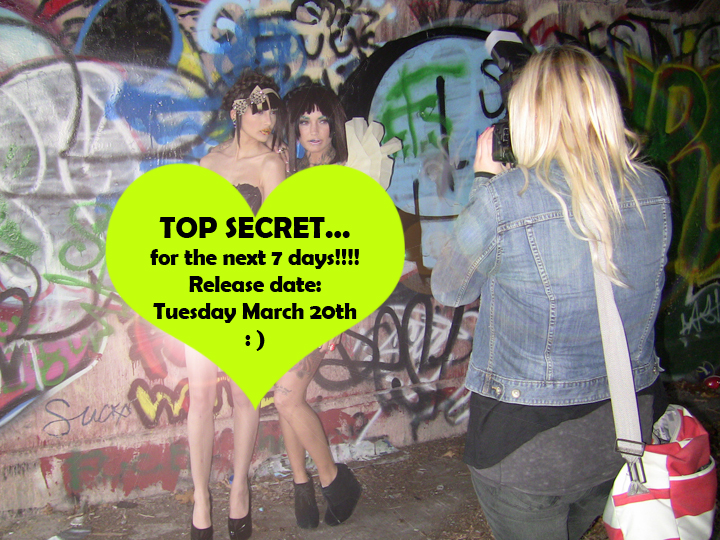 xoxo
Thursday, February 23rd, 2012
Tonight…we are young
…so we set the world on fire
Backstage at the FOREVER YOUNG Photoshoot
…a story of a punk rocker couple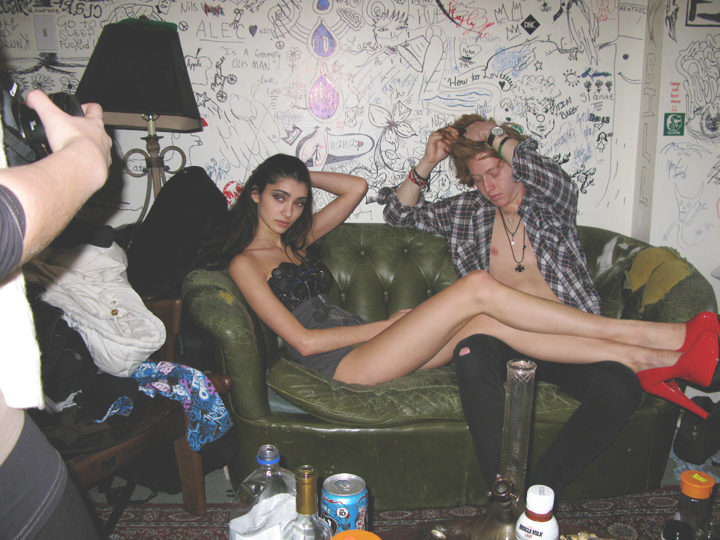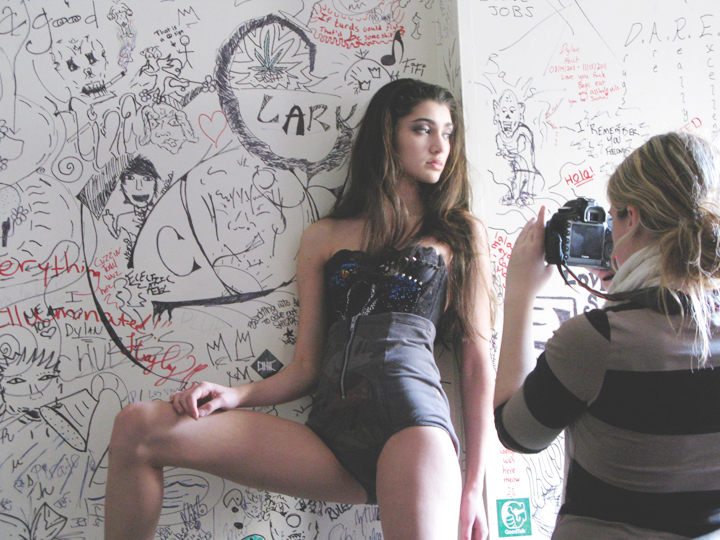 …get your pair of One of a Kind Vintage MICKEY High Waist Garter Shorts HERE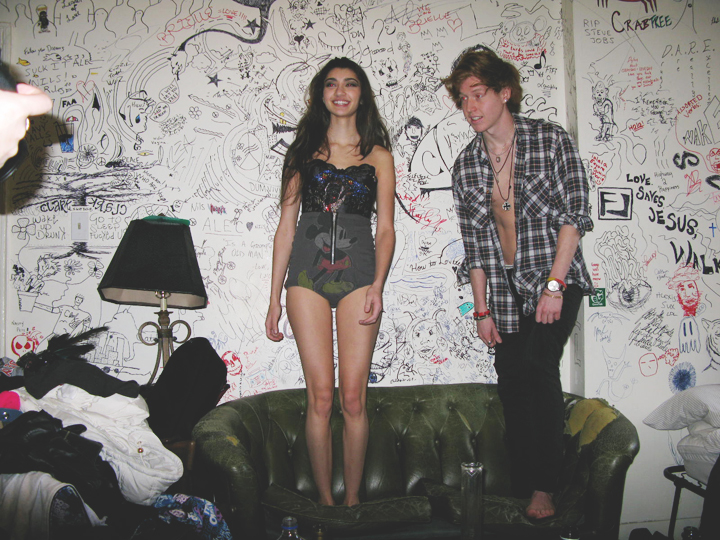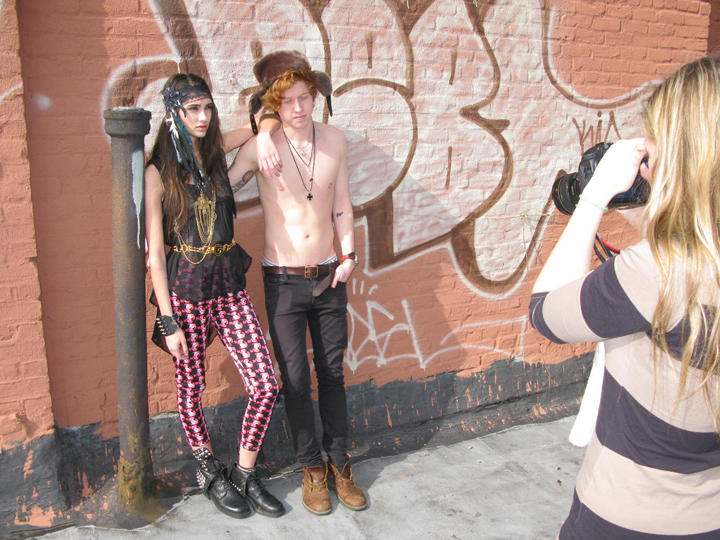 No matter how much you push away……he will always pull you back


…because it's Young Love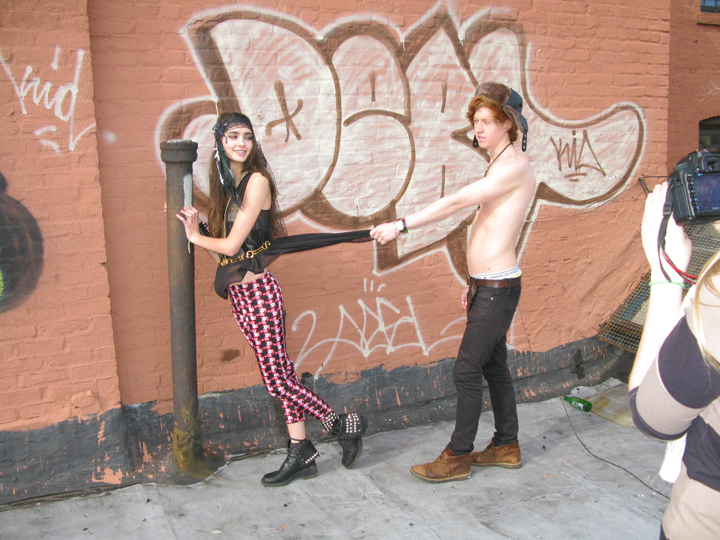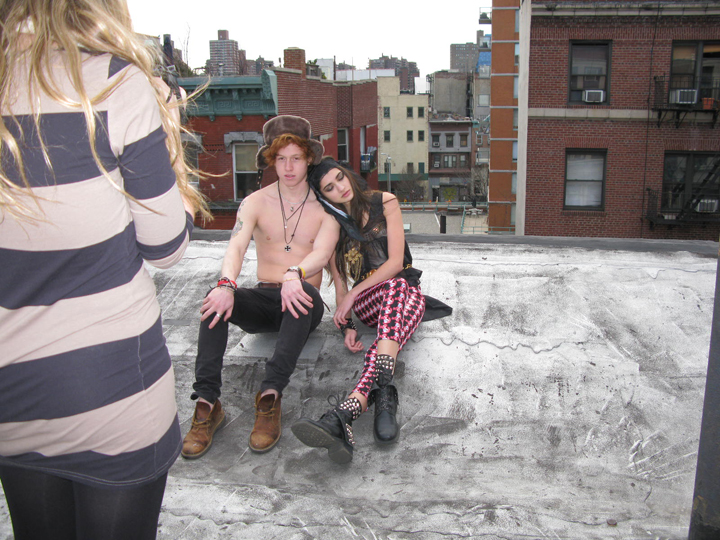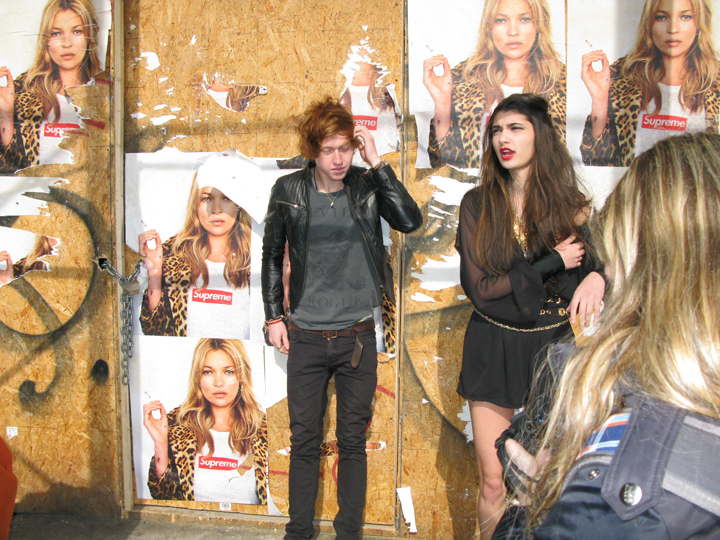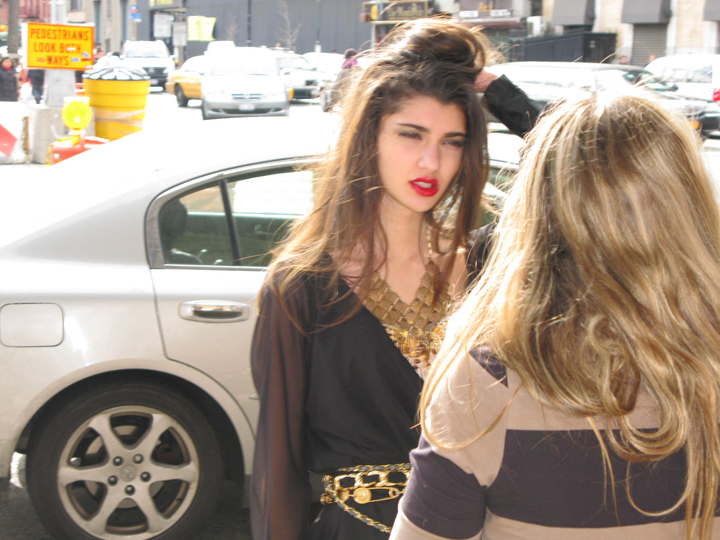 GLAMROCKER

Chic

Black Chiffon Jumper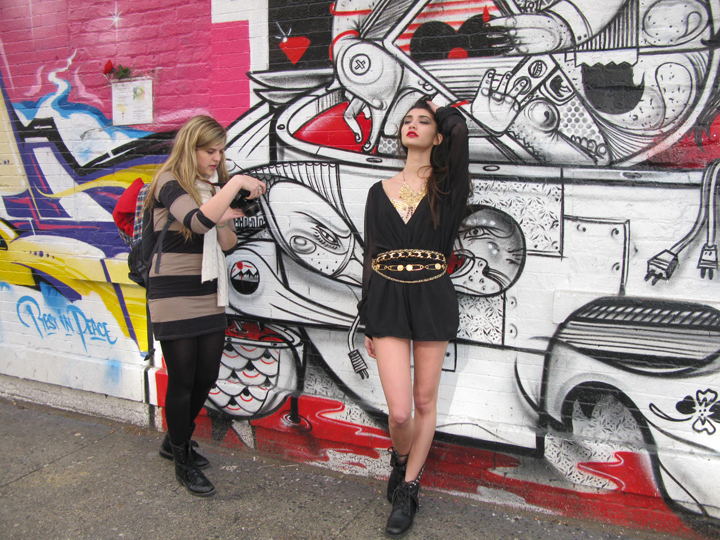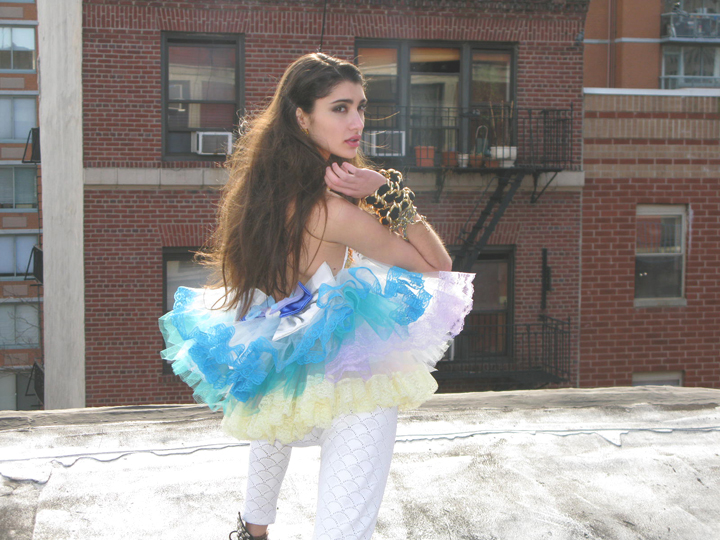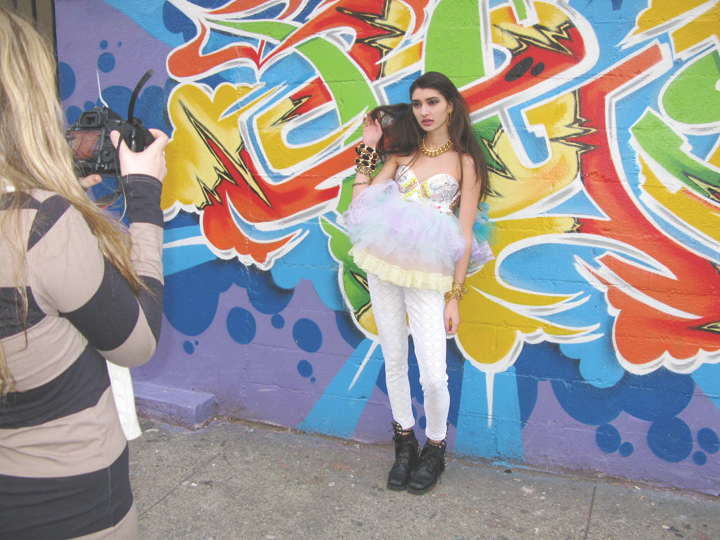 <3
Vintage ROCKER-Chic jewels HERE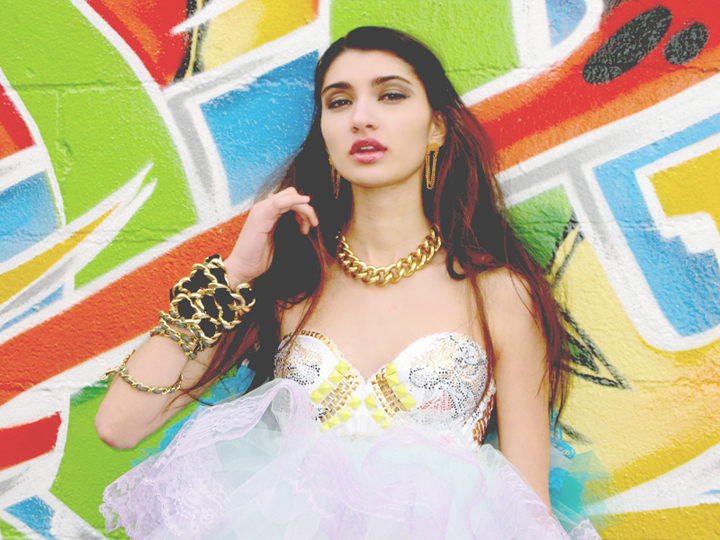 OBSESSED with this song! Get into it!!!!…and set the world on fire

Tuesday, December 27th, 2011
Did you hear her scream?
Where you would least expect it…up a grassy hill…there is an abandoned Mansion in Long Island…which was the stage for a super fun…but HAUNTED  Photoshoot!!!
Backstage at the Haunted Mansion Photoshoot
The home was President Hoovers attorney's…he died in 1964…the house was never lived in again…except by the spirits…oooooooooOOOooooo.  LOOK how spooky it is!!!!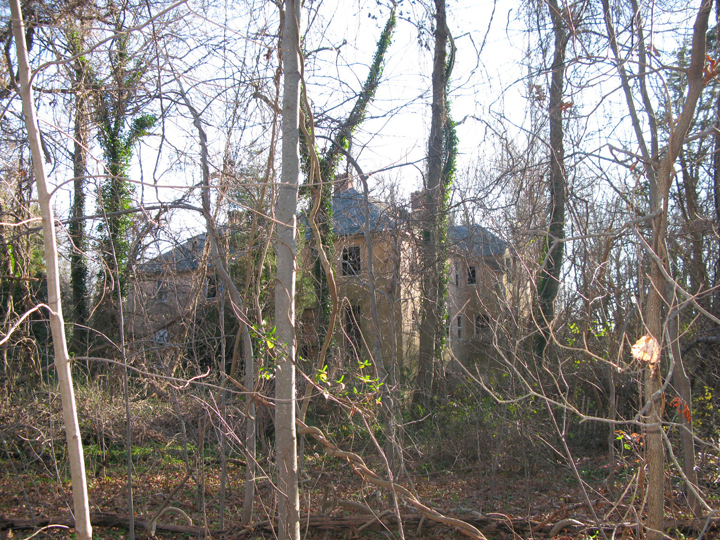 This shot is anything BUT spooky….GORG!!!!!!
…with the sun glistening down on us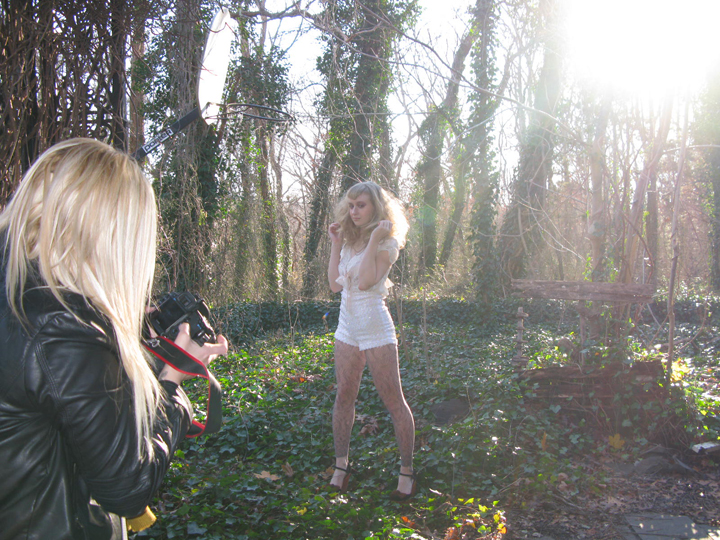 Inside the Mansion was another story…CREEPY!!!
The paint was dripping off the ceiling…floorboards were creeping up…This was on the 2nd floor…near the bathroom that says "MURDER" on the walls…our hearts were FOR SURE beating double time inside!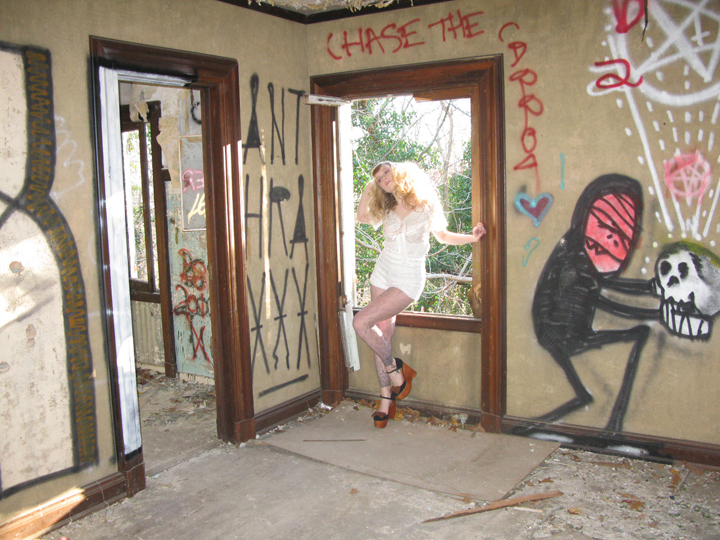 The clothes for this shoot were…Very 1920′s garden dream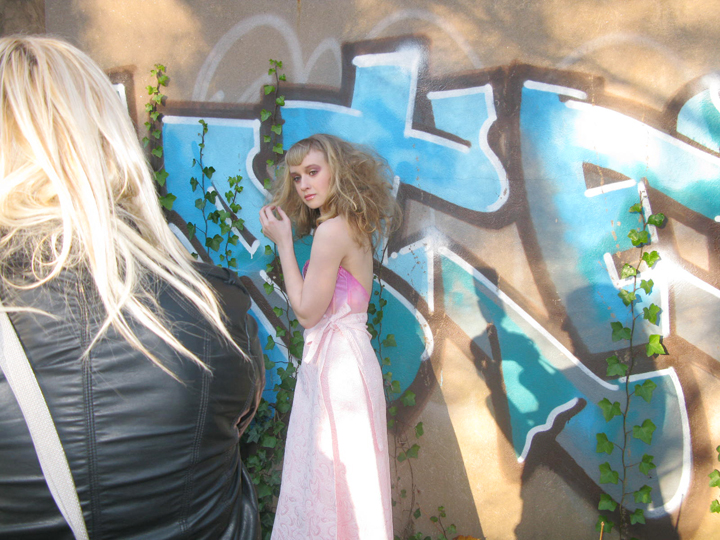 I can think of all the amazing parties that were held behind these walls…now covered in ivy…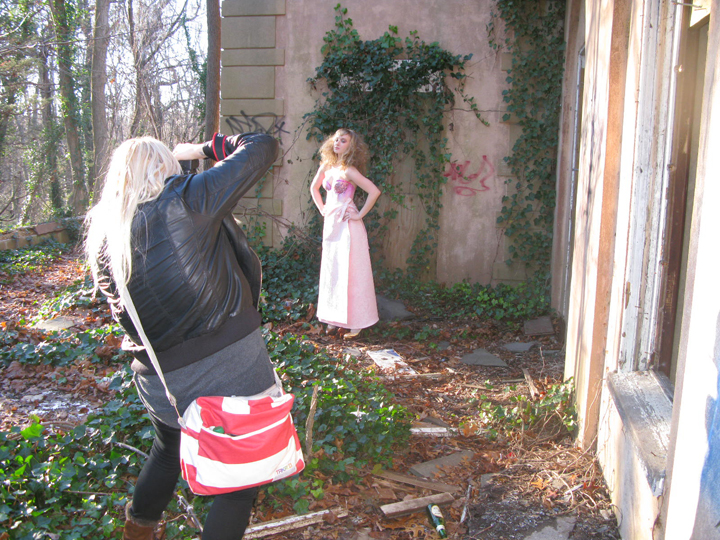 The staircase CREEPED me out the most!! Everyone thought I must be feeling the dead spirit b/c I was super ill while they did this shot…heart pounding!!!
The perfect 1940′s era scenery for a 1940′s inspired look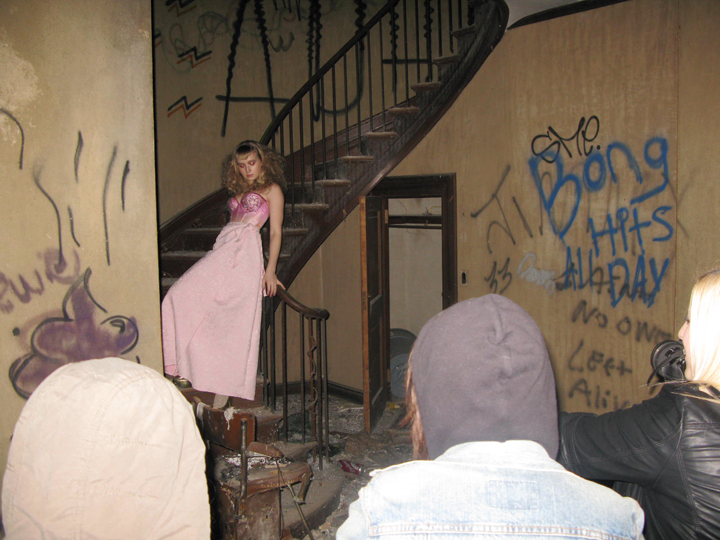 Here's where it went OVERBOARD with being SCARY!!! We wanted to shoot this look in the "MURDER" bathroom…went inside…through a window non the less…and as I was coming in last…everyone else was screaming and pushing back out the window. We did not see anyone…but they heard someone and FREAKED…nearly knocking me out the window.
So we did not go back inside…convinced someone or something was inside…and constantly checking to see if anyone was behind us…HEART POUNDING MORE!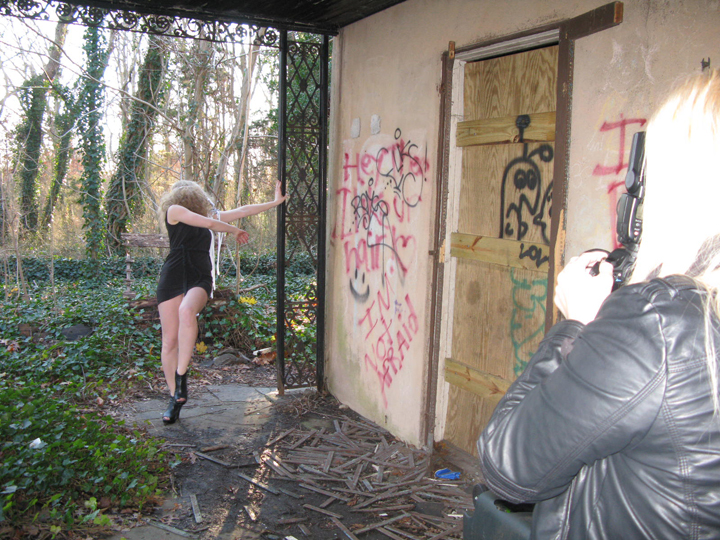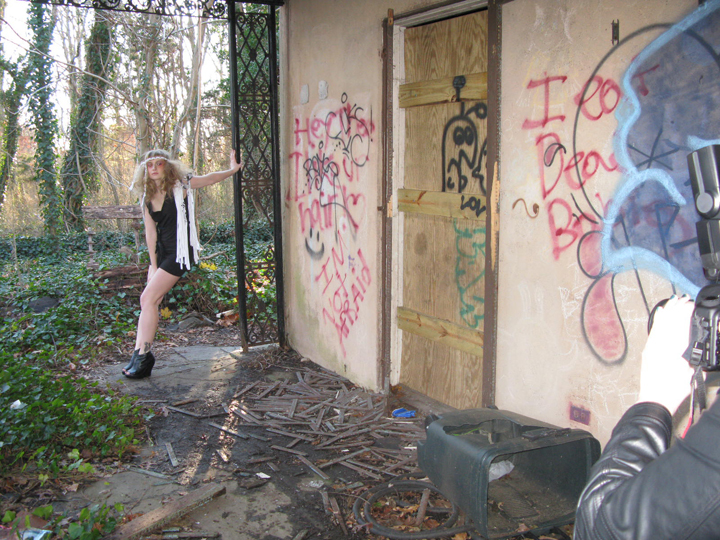 Last look was a farewell dreamy gown…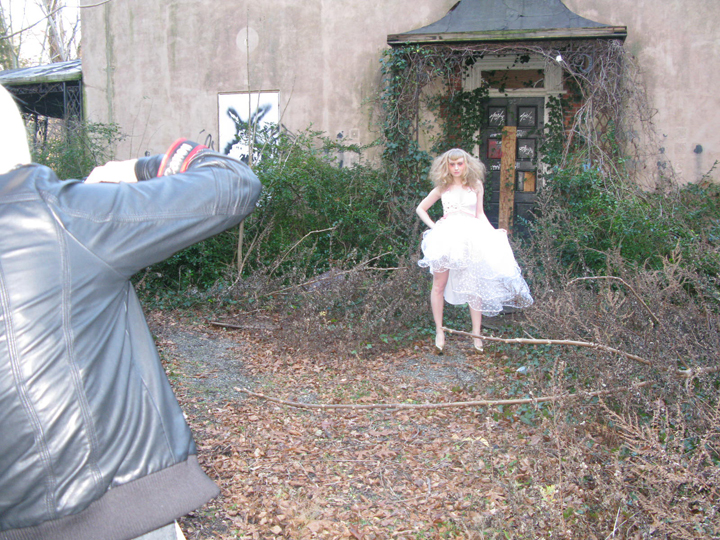 In the fairytale…the prince kisses her and she wakes up…
SUPER FUN and memorable shoot! …cannot wait to share the real photos…soon!!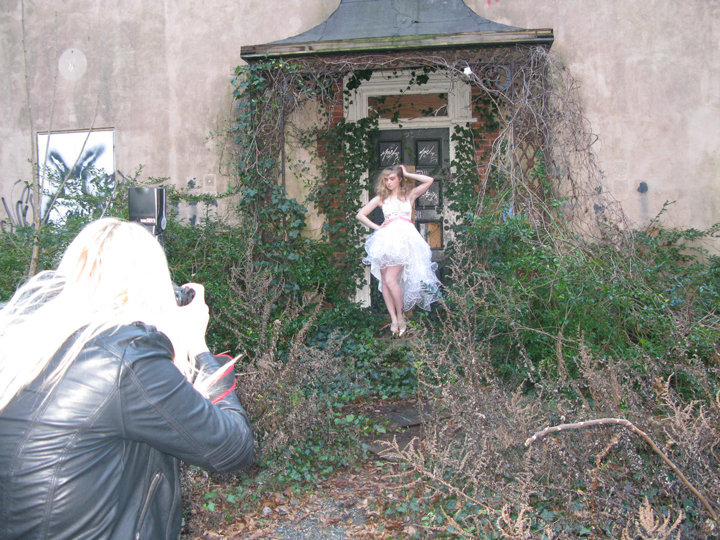 xox